The Old Stone House, a Historic House Trust of New York City site, commemorates the Vechte-Cortelyou House's unique place in Brooklyn and American history. Through exhibits, programs and events, we preserve the House's rich past while contributing to Brooklyn's contemporary cultural community.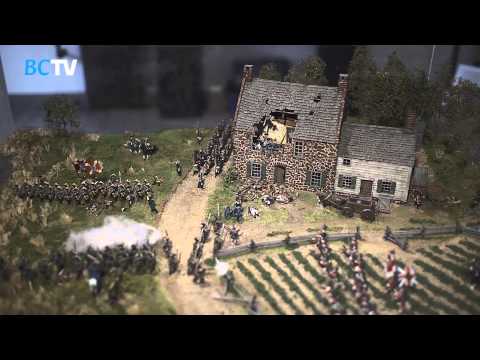 The House As Education Resource
Each year, 6,000 students visit the Old Stone House to learn about the Battle of Brooklyn and colonial life. Our programs blend primary source documents, hands-on activities and inquiry-based learning to create an enriching experience for New York's school children.
The garden spaces at the Old Stone House and our neighboring middle school, MS 51 offer a natural setting of native and useful plants, creating an outdoor interpretive space and a more healthful environment. This is beneficial for the community as a whole — absorbing carbon dioxide, providing exercise, pleasing the senses, offering educational opportunities and encouraging community involvement.
The House As Museum
Open to the public year-round, OSH features a historic interpretive center with a permanent exhibit about the Battle of Brooklyn. We also host original exhibits connected to Brooklyn's past and present in our second floor Great Room.
On View through June 20, 2016:  Partners/Parents/Pets, an exhibit of contemporary portraiture, curated by Katherine Gressel, Curator, OSH's NYSCA-funded Contemporary Exhibition Program, that raises such questions as: how does an artist's portrait work for hire influence his/her personal work, or vice versa? How (and why) are artists choosing to either use, or consciously break away from, family portrait conventions to comment on the nature of their subjects and/or portraiture itself? Finally, who typically has access to getting their "family portrait" created and seen, and who ultimately decides how these subjects are represented? Exhibiting Artists:  Sophia Dawson, Jamie Diamond, Natalie Gruppuso, Meghan Keane, Iviva Olenick, Bayeté Ross Smith,Mónika Sziládi 
The House as Park Advocate
The Old Stone House is situated at the center of Washington Park/JJ Byrne Playground, a 3.5 acre recreation site. We are devoted to supporting the Friends of Washington Park, and developing programming that enriches the site.  Our beautiful playground has separate playspaces for toddlers, elementary and middle-school aged children.
OSH Board:
Nancy Rosenberg, Chair
Andrew McKey, Treasurer
Christine Rhee, Secretary
Members:
Willard S. "Kwame" Anthony II
Stacey Bosworth
Cathleen Game Leff
Alice Marcus Krieg
Elisabeth Martin, AIA
Joseph McCarthy
Jonathan Willens
Emeritus
Michael Armstrong
Joseph Ferris
Peter Joseph
John C. Muir
William J. Parry
Marilyn H. Pettit, PhD*
Ex Officio
Martin Maher
Franklin Vagnone
OSH Staff
Kimberly Maier, Executive Director
Margaret Weber, Director of Education
*in memoriam