The Old Stone House, a Historic House Trust of New York City site, commemorates the Vechte-Cortelyou House's unique place in Brooklyn and American history. Through exhibits, programs and events, we preserve the House's rich past while contributing to Brooklyn's contemporary cultural community.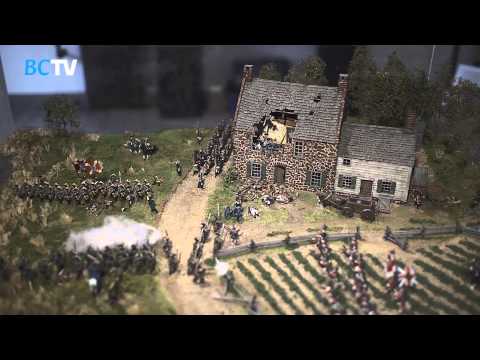 The House As Education Resource
Each year, 6,000 students visit the Old Stone House to learn about the Battle of Brooklyn and colonial life. Our programs blend primary source documents, hands-on activities and inquiry-based learning to create an enriching experience for New York's school children.
The garden spaces at the Old Stone House and our neighboring middle school, MS 51 offer a natural setting of native and useful plants, creating an outdoor interpretive space and a more healthful environment. This is beneficial for the community as a whole — absorbing carbon dioxide, providing exercise, pleasing the senses, offering educational opportunities and encouraging community involvement.
The House As Museum
Open to the public year-round, OSH features a historic interpretive center with a permanent exhibit about the Battle of Brooklyn. We also host original exhibits connected to Brooklyn's past and present in our second floor Great Room.
On View from April 8 – June 3, 2014:  Am I Invisible? A Portrait of New York City Bicyclists!
What makes New York City's bicyclists so different, so appealing?
Am I Invisible? A Portrait of New York City Bicyclists is an open, juried call for photography and art that celebrates the style and diversity of the city's bicyclists.  The five best images will be selected by a panel of judges from New York City's art and cycling communities. Winners receive a $200 gift certificate to redeem at participating bike shops around the city. Everyone who enters receives a 10% discount at participating bike shops between December 1, 2013 and March 31, 2014, and are eligible for a wide range of raffle prizes. All the images entered will be exhibited at bicycleutopianyc.com and well as the Am I Invisible? exhibition at the Old Stone House & Washington Park.   Submissions are open to everyone; a portion of  each entry fee is donated to Recycle-A-Bicycle.
The House as Park Advocate
The Old Stone House is situated at the center of Washington Park/JJ Byrne Playground, a 3.5 acre recreation site. We are devoted to supporting the Friends of Washington Park, and developing programming that enriches the site.  Our beautiful playground has separate playspaces for toddlers, elementary and middle-school aged children.   Take a peek at this view by photographer Hugh Crawford:  http://zoom.it/YFQx
OSH Board:
Alice Marcus Krieg, Chair
Jonathan Willens, Treasurer
Christine Rhee, Secretary
Members:
Michael Armstrong
Stacey Bosworth
Aviva Goldstein
Peter Joseph
Andrew McKey
Jonas Nachsin
William J. Parry
Marilyn H. Pettit
Nancy Rosenberg
Emeritus
Joseph Ferris
Phillip Forbes
John C. Muir
Ex Officio
Martin Maher
Franklin Vagnone
OSH Staff
Kimberly Maier, Executive Director
Margaret Weber, Director of Education