FONTAINE CAPEL
PROPOSAL FOR A MONUMENT (THREE)
A city stoop is a slippery space. It is privately owned and publicly used; a threshold and a destination; and a place to observe and to be observed. In gentrifying neighborhoods across Brooklyn, stoops that have long offered space for respite and spontaneous congregation (especially during the COVID-19 quarantine) are increasingly defended by gates and 911 calls. So what happens when a stoop breaks from its building, leaves its block, and exists on its own? The free-standing stoop is utopian: liberated, it belongs to everyone and no one.
Proposal for A Monument (Three) is a Brooklyn brownstone stoop that is both discontiguous and infinite. The series of works it belongs to, Proposals for A Monument, present possible public sculptures that I hope to install in parks and public space across New York City. The first physical realization of this series will be presented at Socrates Sculpture Park in Autumn of 2020. They take their form from the stairway to the Park Slope apartment building my Cuban migrant family called home for half a century, and which they were forced to abandon by developers. I grew up a few blocks away from the Old Stone House and spent countless days of my childhood and adolescence in this park. Now I cannot imagine a future in which I can afford to raise my own children anywhere near the site of these memories. How many New Yorkers' stories—of international migration followed by intra-city displacement—echo that of my own? How many more New Yorkers' will?
These proposals address a difficult past and discouraging present, but they also look with hope and humor toward a more utopian future for my borough.
---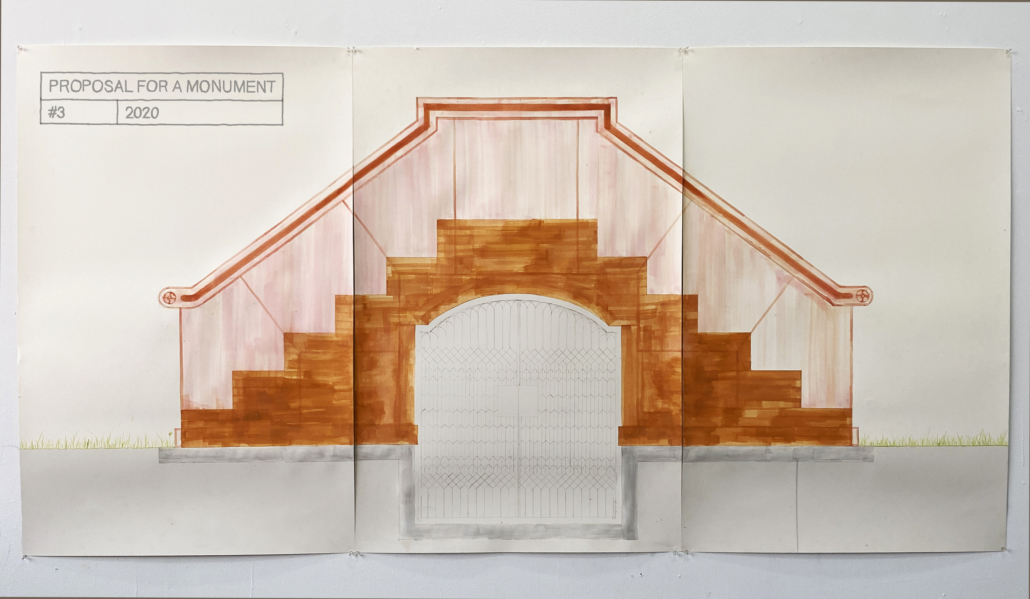 Proposal for A Monument (Three) (2020)
Gouache, India ink, and graphite on paper
40″ x 78″
---
ABOUT THE ARTIST
Whether alone in the studio or in collaboration on a project, Fontaine Capel works to make space for the overlooked and undervalued. In 2017, her Cuban migrant family was forced out of the Brooklyn apartment they'd called home for over half a century so it could be converted into a "Luxury Apartment." ​This latest unwelcome migration—and its attendant questions around ownership, occupying and sharing space, community and interdependence, and urban dys and u -topias—has catalyzed her recent body of work. ​She has used performance, video, monumental drawing, sculpture, installation, and speculative proposals to invite viewers to celebrate, grieve, consider the roles they occupy in the present, and imagine possible futures. She also facilitates collaborative projects that trouble the boundaries between artmaking, curating, and community-building.