JESSICA DALRYMPLE
---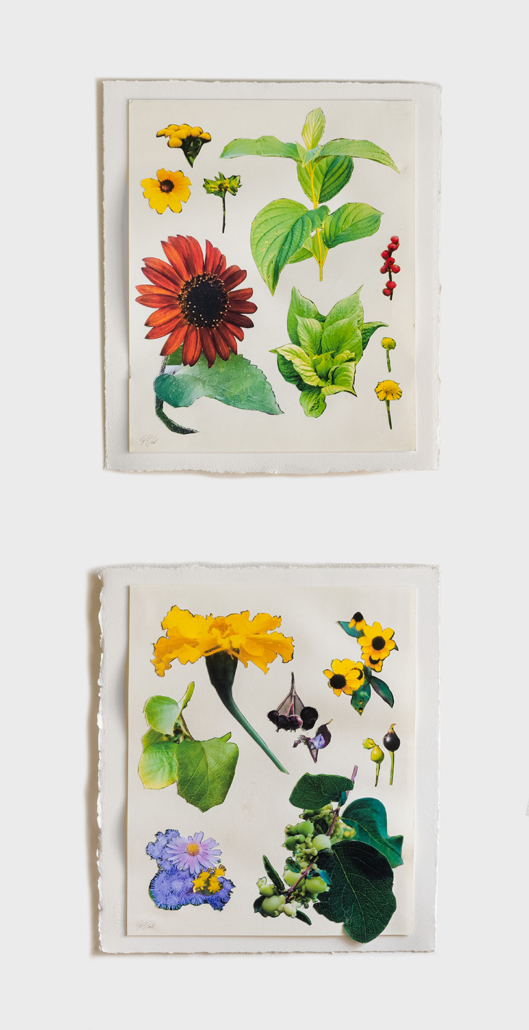 Top: Study for Garden Portrait (2020)
Collage on paper, 13″ x 11″, $192
A sampling of plants from the 2019 Farm Garden in the form of a traditional illustration plate.
Bottom: Study for Medicinal Inspiration (2021)
Collage on paper, 13″ x 11″, $192
The seeds, roots, flowers, and/or leaves of these plants have been foraged
by indigenous peoples to treat and prevent bodily ailments and diseases.
---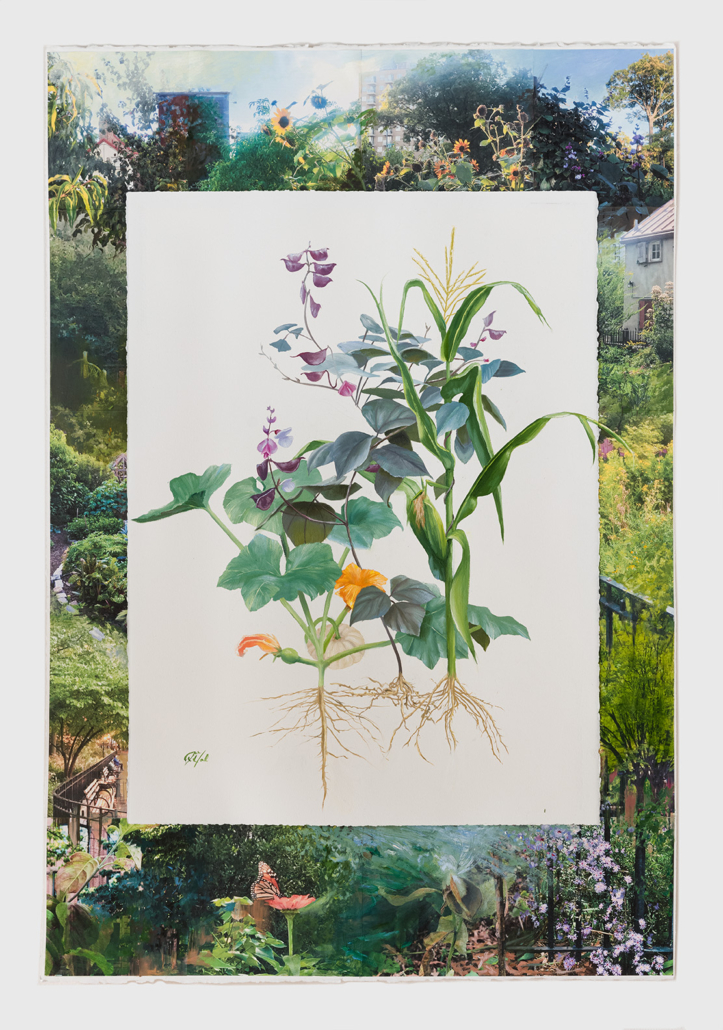 Nature Contained; Three Siblings (2021)
Mixed media on paper, 45″ x 30″, $1,200
Inspired by the "Three Sisters" plantings in the Farm Garden, Three Siblings honors the Native American farming tradition of companion planting and illustrates both the life cycles and interdependence of these plants while serving as a visual metaphor for the community spirit fostered by the Old Stone House gardens.
During the pandemic, Dalrymple spent time teaching, volunteering, sketching, and photographing in the gardens and saw they were an oasis where people could play, mingle, rest, and connect with nature, a respite from the harsher elements of the gridded city and the pandemic's isolation.
The chaos of overlapping activities seemed not unlike the tangle of these three plants, a slightly messy interwoven system with each plant following its own direction while being collectively supported: the corn supporting the beans' upward growth, the beans' roots affixing nitrogen to the squash and corn, and the squash laterally shading the roots of all three.
---
ABOUT THE ARTIST
Jessica Dalrymple studied Fine Art at Hamilton College and trained as a painter at The Art Student's League of New York. She has exhibited with many national and regional juried shows and has received numerous awards including the Fenimore Award which granted her a solo exhibit at the Fenimore Art Museum in Cooperstown, NY. She is also earning her certificate in horticulture from Brooklyn Botanic Gardens, is a licensed city tree pruner through Trees New York.
She instructs oil painting and contemporary botanical drawing for Trestle Workshops, Hamilton College, and The Old Stone House Brooklyn. She has also collaborated with local organizations to create art events that raise awareness about the local landscape and environmental justice issues such as; co-creating ArtLab Gowanus, a pop-up structure hosting landscape related art workshops taught by local artists, made possible by the Gowanus Public Art Grant, applied for in collaboration with The Gowanus Canal Conservancy (2015). In 2014 she created a Plein Air On The Canal event hosting organizations such as local chapters of The Urban Sketchers and Oil Painters of America on the banks of the canal to collectively capture the evolving landscape.
Other events include a Spring Botanical Draw for the Gowanus Dredgers focusing on local vegetation, multiple Botanical Drawing events for The Old Stone House Brooklyn featuring their historic gardens, and a Botanical Drink N Drawing event to raise funds for The Human Impact Institute. Most recently she leads monthly Nature Journaling Hikes through Prospect Park, sketching the park's flora and fauna.
Follow her on Instagram at @jessicadalrymple.