This Exhibit is past. Visit our Exhibitions page for information on the current programming.
Struggling Toward A Better World: Bev Grant Photography 1968-1972
February 13 – March 27, 2022
Opening Reception: February 13, 2 pm – 4 pm
Gallery Hours: Noon – 4 pm, Fridays – Sundays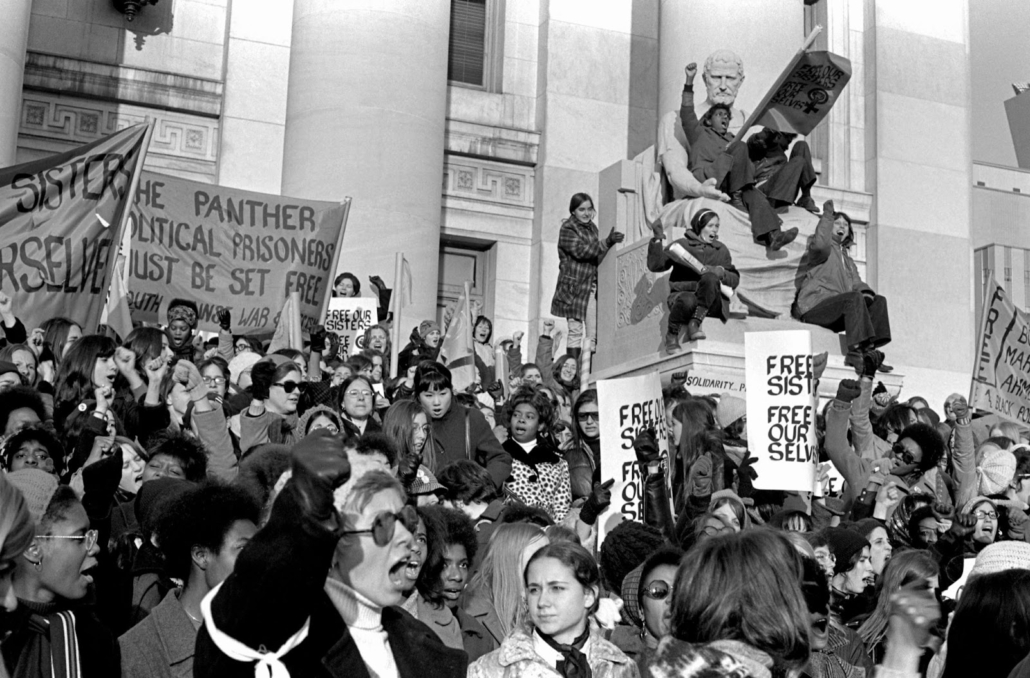 Image Credit: November 22, 1969, Women's demonstration at the court house protesting the trial of Black Panther leaders, Erika Huggins and Bobbie Seale. New Haven, Connecticut. Courtesy of OSMOS New York.
Public Programs:
March 6 at 2 pm: Book Signing + Talk with Bev Grant and Suzanne Cope, moderated by Linda Villarosa
March 23 at 6:30 pm: Film Screening + Discussion of of Bev Grant's film Bev Grant Photography: Photographs of Struggle for Change Through the Eyes of an Insider, more details to come
Overview:
This exhibition by Brooklyn-based photographer, musician and activist Bev Grant is part of a series of events accompanying the launch of Grant's first monograph, Bev Grant Photography 1968-1972, published by OSMOS Books, New York (2021). The book and exhibition draw from Grant's extensive archive of photographs from this time period when she was on the frontlines as a feminist and political activist. After moving to New York City in the 1960s, Grant began photographing while participating in demonstrations such as the No More Miss America protest in Atlantic City and the anti-Vietnam War Jeannette Rankin Brigade in Washington, DC. As a member of the film collective New York Newsreel she gained access to groups including the Young Lords Party, the Black Panther Party and the Poor People's Campaign.
Bev Grant's photographs document pivotal public events, as well as intimate, behind-the-scenes organizing, including community support initiatives such as the Black Panther Party's free breakfast program and clothing drives and the Young Lords' Garbage Offensive. Together, these photographs emphasize "the intersectionality and humanity of people struggling together towards a better world," in the words of the artist (all quotations are from Bev Grant Photography 1968 to 1972, edited by Cay Sophie Rabinowitz, published by OSMOS Books, New York, (2021). They highlight the presence of women as a potent political force in many of these movements, and of multiracial coalitions. An image of the 1969 New Haven demonstration to free Black Panther leaders Ericka Hudgens and Bobbie Seale hones in on the sizable crowd of women of diverse ages and races (similar to the makeup of a contemporary Women's March or Black Lives Matter protest).
This and other works for this exhibition were selected for their visual ties to past and present activism, in keeping with OSH's mission to connect its revolutionary war-era history to today's activist movements through contemporary art. The use of street theater and anti-capitalist messaging in the Halloween 1968 W.I.T.C.H Hex on Wall Street image evokes the 2011 Occupy protest. Specific protest signs and posters from this era feel strikingly similar to today's slogans about women's reproductive rights, police reform and the government's failure to address economic or racial inequality and uphold the values on which the nation was supposed to be founded (one of the photographs on display captures a protester from the 1968 NYC Anti-Imperialist March carrying a quote from the Declaration of Independence).
In his introduction to the monograph Bev Grant Photography 1968-1972, William Cordova writes that rather than trying to "convince us of the significance of a static moment…Grant compels us to narrate our own experience in what we see." Such details may remind us of ongoing struggles for justice decades later, but also of progress made due to the creativity, persistence and coalition-building depicted in these images. Says Grant, "I am hopeful about the future, but I don't try to give advice to the younger folks who are shaping it. The most I have to offer is a look back at history – from which we all can learn."
About the Artist:
Bev Grant (born 1942) grew up in Portland, Oregon and moved to New York City in the 1960s. She was radicalized through the Anti-War Movement and became involved in the Women's Movement and the Civil Rights Movement as an activist, musician, and photographer. Much of Bev Grant's photography documents political activism and consciousness-raising events from 1968 until 1972. Thereafter, she began to focus more on her music. Her exceptional oeuvre includes photographs of the Black Panther Free Breakfast Program, the Jeanette Rankin Brigade March on Washington, the Fillmore East Takeover, the Poor People's Campaign, GIs Against the War and the Young Lords Garbage Offensive. Additionally, Grant's photography depicts her own activism and her involvement with New York Radical Women. Her documentation of the Miss America Protest and W.I.T.C.H. Hex on Wall Street (both in 1968) has been featured in numerous news outlets and exhibitions.
Throughout the 1970s and 1980s, Bev Grant's band Human Condition performed folk, rock and world music. In 1991, Grant joined the United Association of Labor Education Northeast Union Women's Summer School as Cultural Director. Since 1997, she has been Founder and Director of the Brooklyn Women's Chorus. From 2006 to 2008, Grant performed with other female musicians as part of a group called Bev Grant and the Dissident Daughters and later as WOOL&GRANT. She released a solo album, It's Personal, in 2017.
Grant's photography was used in the film She's Beautiful When She's Angry, released in 2015, and her first solo exhibition, in 2018, was co-curated by Alison Gingeras and Cay Sophie Rabinowitz at OSMOS Address in New York City.
About the Curator:
Katherine Gressel, the Old Stone House & Washington Park's Contemporary Art Curator, is a New York‐based curator, artist, and writer focused on site‐specific art. She earned her BA in art from Yale and MA in arts administration from Columbia. Katherine's previous exhibits dealing with such topics as income inequality, urban agriculture, and parks have been recognized by the New York Times, Time Out New York, Hyperallergic, News 12 Brooklyn, and DNAInfo. In addition to organizing eleven major exhibitions to date at the Old Stone House, Katherine has curated for FIGMENT, No Longer Empty, St. Francis College, and Brooklyn Historical Society, and was the 2016 NARS Foundation emerging curator. She was selected for the 2015 Independent Curators International (ICI) Curatorial Intensive in New Orleans. Katherine has written and presented on public and community art issues for Createquity, Americans for the Arts, and Public Art Dialogue, among others. Katherine also served as Programs Manager at Smack Mellon Gallery from 2010-2014, and has worked and consulted for diverse nonprofits.
About the Publisher & Book:
Bev Grant Photography 1968 –1972, was published by OSMOS Books, New York (2021) and edited by Cay Sophie Rabinowitz, with an introduction by artist William Cordova and an essay by author and historian Johanna Fernández. Totally independent and self-supporting since 2012, OSMOS has published more than 30 bound volumes in circulation, including OSMOS Magazine (21 issues to date) and monographs with artists such as Leslie Hewitt, Eileen Quinlan, Wardell Milan, Kon Trubkovich, Marcelo Krasilcic, Glen Rubsamen, Nilbar Gures and others. OSMOS titles are distributed by DAP/artbook.com to discerning retailers with a special preference for museums, independent bookstores, art galleries and curated concept stores. We promote and believe in the hands-on, haptic experience of content, both on-the-wall and on-the-page, and thus we dedicate limited resources to the content on our digital outlet www.osmos.online. For more information: osmos.address@gmail.com
Struggling Toward A Better World is made possible, in part, by the New York City Department of Cultural Affairs.