The submission deadline for this Open Call is past.
Picturing The Constitution
Open Call for Artists
---
Exhibition at the Old Stone House & Washington Park
Exhibition Curator: Katherine Gressel
SUBMISSION DEADLINE: May 22, 2023
EXHIBITION DATES: October 2023 – January 2024
Archived Submission Link – Deadline Past
Questions? Watch the recording of our virtual info session for all the details and artistic prompts.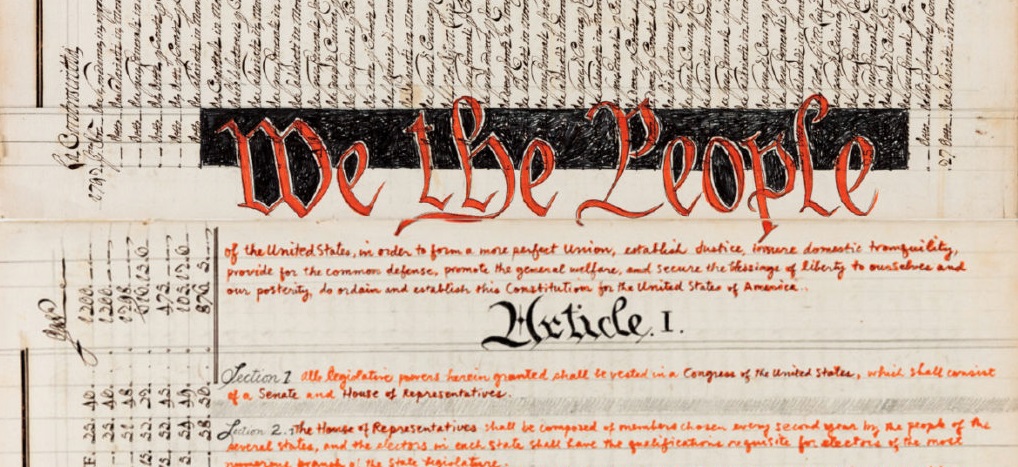 ---
SUMMARY:
This group exhibition invites artists to respond to an aspect of the Constitution of the United States, including its amendments and interpretations by the Supreme Court and various governing bodies throughout history. To what extent do these founding documents still serve us (equitably)? What could we add or amend?
In keeping with our ongoing Brooklyn Utopias series, we are also interested in dialogue around how the Constitution as written or modified could promote a more perfect society, and how the idea of Utopia has shifted throughout U.S. history. These topics are especially relevant as changes to the Supreme Court have sparked renewed debates over the Constitution's intent, as well as dramatic changes in laws pertaining to reproductive, voting and gun rights and, potentially, many other areas of American life.
As we approach the 2024 presidential election, it is also an important time to reflect on the history and current state of democracy in America, our rights and responsibilities to our communities and country today, and the role of artists in depicting and facilitating these ideals.
To inspire informed artistic responses to the Constitution, the Old Stone House will offer an online informational session prior to the submission deadline, including presentations by American art and constitutional historians. Register for free through Eventbrite.
We plan to host an opening event that coincides with the annual Gowanus Open Studios, October 13-15. Artists and community organizations are also welcome to propose related public programs or performances.
Get inspired by Morgan O'Hara's Handwriting the Constitution social art project!
Click here for helpful resources on the U.S. Constitution.
---
ABOUT THE OLD STONE HOUSE:
As with all our exhibitions, we encourage projects that engage with the Old Stone House's unique revolutionary and Indigenous history, and include the narratives of traditionally marginalized communities.
The Old Stone House (OSH) is a reconstructed Dutch colonial farmhouse located in Park Slope's Washington Park/J.J. Byrne Playground. The playground and house restoration were first developed by Robert Moses in the 1930s, but the land surrounding the house made history long before then as the site of the 1776 Revolutionary War Battle of Brooklyn, and as a 19th Century Brooklyn Dodgers practice field.
OSH is at the crossroads of ancient Lenape roads, adjacent to the historic town of Marechkawick, and we acknowledge this land's original inhabitants.
Today, OSH hosts history and environmental education programs as well as cultural and family events. Visit www.theoldstonehouse.org to learn more.
---
SUBMISSION REQUIREMENTS:
Projects in all media are welcome. Artists may submit existing work or proposals for new work, and may submit more than one artwork/project for consideration. Please see "exhibit specifications" section below for more detail on the unique requirements of exhibiting in the OSH space.
We are also interested in commissioning public art for the surrounding Washington Park, and artwork created with the participation of local community groups or schools- please contact OSH in advance if you'd like us to help try to match you with a community partner organization.
We are also open to temporary indoor or outdoor event proposals that engage with this theme, from both artists and community organizations. Artists are especially encouraged to propose community workshops that complement artwork on view in the gallery (as opposed to stand-alone events).
Due to OSH's busy event calendar, public programs will be arranged at mutually convenient times, based on OSH's availability.
To submit your work for consideration in this open call, please carefully fill out the Google Form here with the following:
Up to ten images of your artwork
An image script with captions for your artwork
A brief artist statement describing how the artwork(s) relates to the theme of "Picturing The Constitution"
Artist CV or Resume
Artist Bio
Deadline EXTENDED: May 22, 2023
OSH is dedicated to offering at minimum a $150-$250 honorarium for all participating artists (depending on number of artists selected).
Artists are highly encouraged to view the OSH floor plan, and visit http://theoldstonehouse.org/exhibitions/ to see past exhibition images.
You are welcome to contact Kim Maier, OSH Executive Director, directly at kmaier@theoldstonehouse.org and Katherine Gressel, curator at katherinegressel@gmail.com to make an appointment to visit the house or discuss specific installation needs.
---
EXHIBIT SPECIFICATIONS:
Works will primarily be on display in OSH's 2nd Floor Great Room gallery, though there may be potential for site-specific work in the park outside, gardens, stairwell, or lobby.
The Great Room is a multi-purpose space that will also be used for a variety of public and private events during the show's run—therefore, work must be securely hung on walls–either from masonry screws, heavy duty tape (depending on weight) or a picture rail–or otherwise fastened to a permanent surface in the room. The concrete walls do not accommodate small nails or pins.
There is little space for 3-dimensional work indoors, though small three- dimensional installations are sometimes possible, i.e. on window sills, small shelves, the fireplace, the stairway landing, small pedestals, or other furniture.
We have three small and one large monitor available for video work, and a wi-fi enabled ipad for web-based displays. With some exceptions, artists are responsible for obtaining their own AV equipment. Note: we can only show a minimal amount of video work in each exhibition, given the multi-purpose nature of our space. Projection-based video is normally not feasible in our gallery, but please contact the curator if you'd like to inquire about possible exceptions to this.
Outdoor work will be exhibited within 100 feet of the Old Stone House, and must be in keeping with Parks Department specifications for public art. Such projects should be discussed in advance with OSH Executive Director Kim Maier. Please note outdoor projects are vulnerable to both harsh weather conditions, and theft or vandalism as the park cannot provide 24-hour security.