ROBIN MICHALS & LYNN NEUMAN
WASTE SIDE STORY
A Brooklyn Utopia would be a borough that creates zero waste, 2.5 million people that do not consume virgin plastics, and a place where materials are creatively reused and repurposed. Brooklyn has the facilities- SIMS Municipal Recycling, a very hard working DSNY, and the creativity to imagine how to make this utopia a reality.
For Brooklyn Utopias: 2020 we have selected images from our in-progress project Waste Side Story, printed on weather-proof vinyl and hung on the fence of the the Old Stone House & Washington Park AstroTurf field to urge Brooklyn to strive for a utopia of zero waste. The photographs in Waste Side Story depict a woman in the latest "trashion" (fashion made from trash) moving through the infrastructure of waste collection and disposal. By parodying both fashion photography and the trend in dance photography of ballerinas on city streets, Waste Side Story uses humor to engage audiences to think about waste as a process, a system of use, and a set of economic relationships. The images contrast the infrastructure of waste collection with the creative reuse and re-purposing of materials, encouraging a change in the cultural ethos towards garbage and also serving as a call to action.
---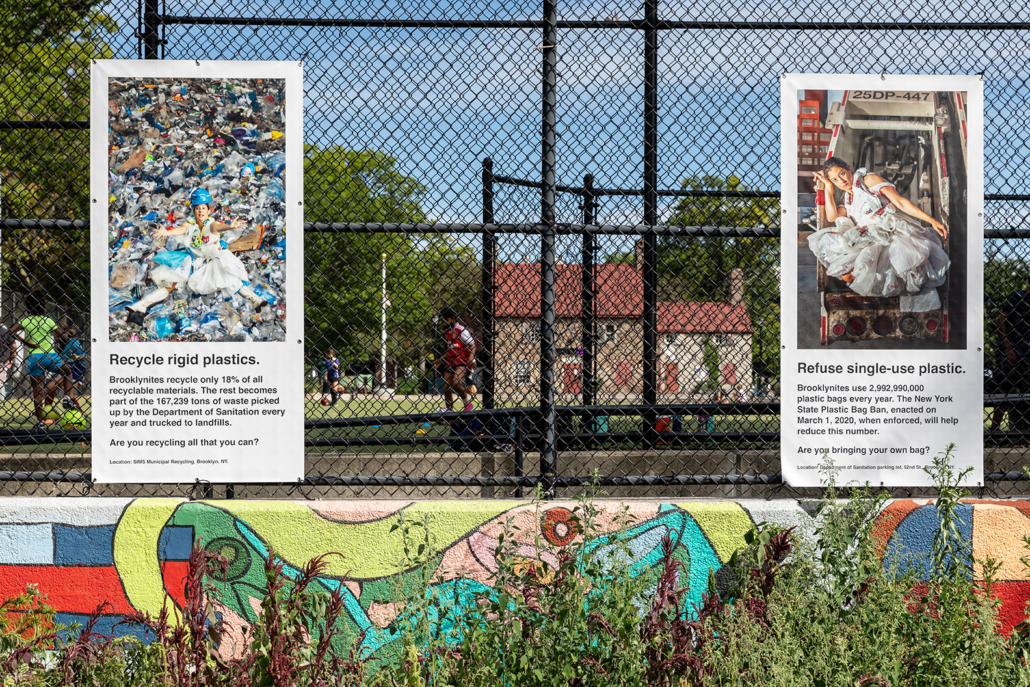 Waste Side Story (2020)
Inkjet prints on vinyl
Exhibition Photography by Etienne Frossard
---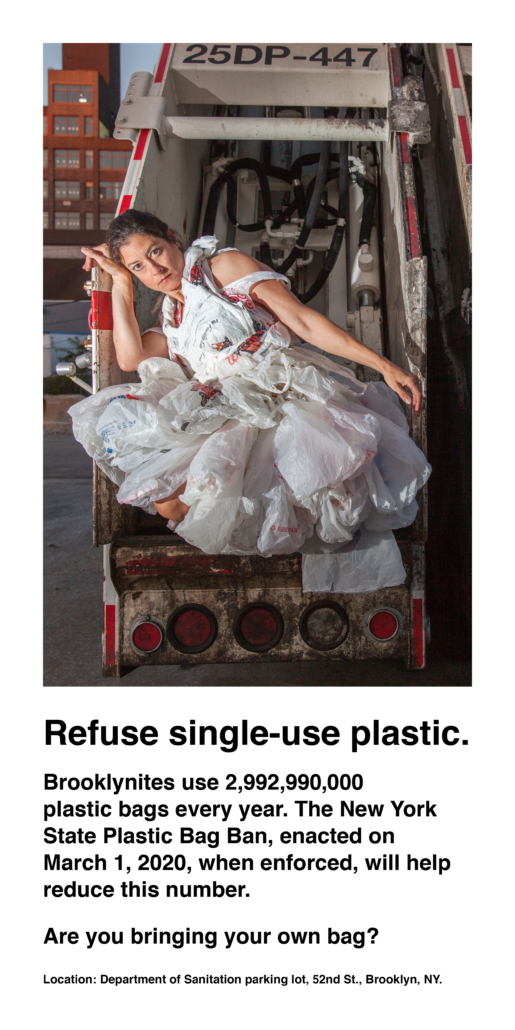 Waste Side Story-Department of Sanitation Collection Vehicle (2020)
Inkjet print on vinyl
36" x 72"
---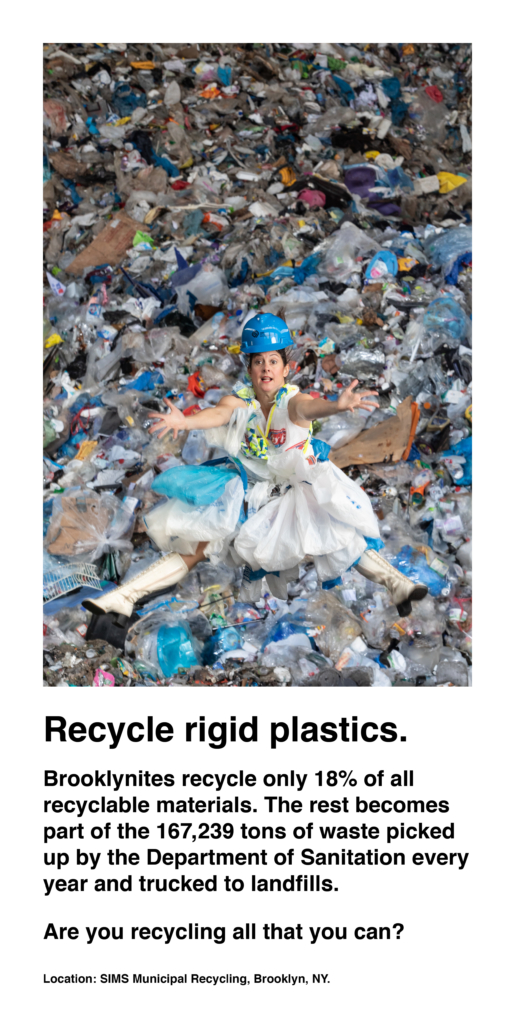 Waste Side Story-SIMS Municipal Recycling (2020)
Inkjet print on vinyl
36" x 72"
---
ABOUT THE ARTISTS
Robin Michals is a photographer whose work explores the impact of environmental issues on local communities. In addition to international projects, this includes a long term commitment to the Brooklyn waterfront, creating the photographic series Abused and Reused: The Brooklyn Waterfront and being a founding member of the Brooklyn Waterfront Research Center, an organization that encourages policy discussion around waterfront issues. In 2009, Michals photographed over fifty sites in Brooklyn with legacy pollution for the series Toxi City: Brooklyn's Brownfields, which was exhibited at the Brooklyn Lyceum with support from the Brooklyn Arts Council and the Puffin Foundation. She was an artist -in-residence at the Brooklyn Navy Yard in 2015. Her work was included in the exhibit Shifting Perspectives: Photographs of Brooklyn's Waterfront at the Brooklyn Historical Society in 2017.
Michals teaches photography at New York City College of Technology, City University of New York (CUNY) and lives in Brooklyn.
Lynn Neuman is a choreographer, director, educator and performer, and Director of Artichoke Dance Company based in Brooklyn. As a national leading eco-artists, she is known for her multi-year program to pass comprehensive plastic bag legislation in New York. Her site-specific work has been commissioned by the Cooper Hewitt Museum, The Waterfront Alliance DUMBO Improvement District and The Soraya. Stage commissions include the National Gallery of Art, Dixon Place, and the Joffrey Ballet School. Lynn is an Association of Performing Arts Professionals Leadership Fellow and is the only choreographer to be awarded a Marion International Fellowship for the Visual and Performing Arts. She has been featured in Dance Magazine, Broadway World, National Public Radio, the Los Angeles Times and Washington Post for her innovative creations, which have been performed in the United States, Australia, Canada, South Korea and Turks and Caicos.
In New York, Lynn has taught at Peridance, Joffrey Ballet School, Gibney Dance, and Ballet Arts. She has been a guest artist at universities and arts programs across the country. She is sought for workshops and lectures in eco-arts activism and engaging communities in environmental arts initiatives. Lynn serves as a volunteer coastal cleanup coordinator, is on the Steering Committee of 350Brooklyn, is a member of the Gowanus Neighborhood Coalition for Justice, and is a regional organizer for Global Water Dances.