BETTY YU
(DIS)PLACED IN SUNSET PARK, INTIMATE/DISTANT, & DEGENTRIFYING MY PARENTS' BLOCK
(Dis)Placed in Sunset Park is an interactive multimedia exhibition that features short videos of Latinx and Chinese (im)migrants, workers and residents in Brooklyn, New York's diverse Sunset Park neighborhood. The common theme among their stories is the shared narrative of migration to the U.S., their journey to Sunset Park and their fears of displacement as a result of gentrification. Each story is grounded in the subject's own sense of home, sanctuary and refuge that they have found in Sunset Park. The title refers to the way people are being "displaced in" their own community as it changes around them; and to the way some are being crowded into smaller quarters within Sunset Park as well.
Intimate/Distant is an interactive, Web-based documentary project. It tells my family's immigrant stories, which span multiple generations. It features short video vignettes and images that provide a portal into my family's journey, beginning with the current COVID-19 global pandemic, and then going back to the early days of the Chinese Exclusion Act, which was signed into law in 1882. These portals interweave my narration, poetic imagery, photography, archives, collages, vérité-style scenes, and traditional interviews.
Degentrifying My Parents' Block will be featured in the exhibition Imagining De-Gentrified Futures at Apexart in Fall 2020, which I am also curating. The concept for Imagining De-gentrified Futures comes from my own experience in anti-displacement organizing and recognizing its limitations—it can often feel reactive, defensive and sometimes lacking in long-term vision. As an artist, activist and educator I hope to create a space for dialogue that dares to imagine socially-just futures for our cities. To that end, I have asked artists, cultural workers, activists, organizers, scholars and urban planners to envision what a de-gentrified city looks like—particularly one that is rooted in anti-capitalist, anti-colonialist values, and recognizes housing as a universal human right. Is it possible to disrupt dominant narratives put forth by real estate developers, extractive industries and the 1%, which depict gentrification as "inevitable" and a "natural" part of urban evolution? How might we trace a new trajectory that allows our neighborhoods to flourish without being priced out of our own communities?
---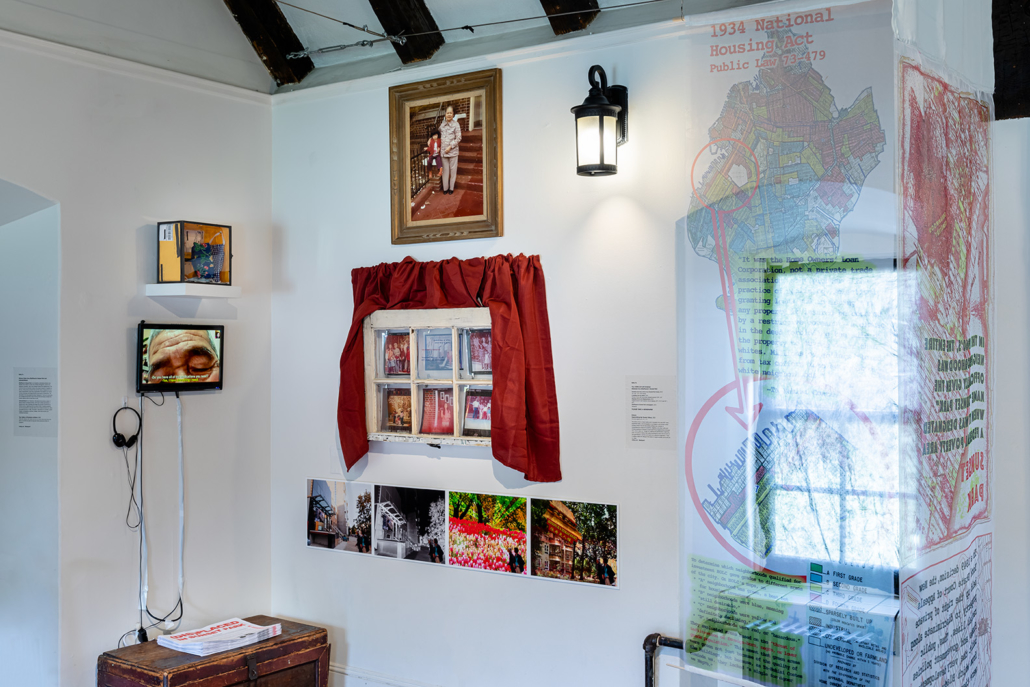 (Dis)Placed in Sunset Park, Intimate/Distant, Degentrifying My Parents' Block
Installation at the Old Stone House
Exhibition Photography by Etienne Frossard
---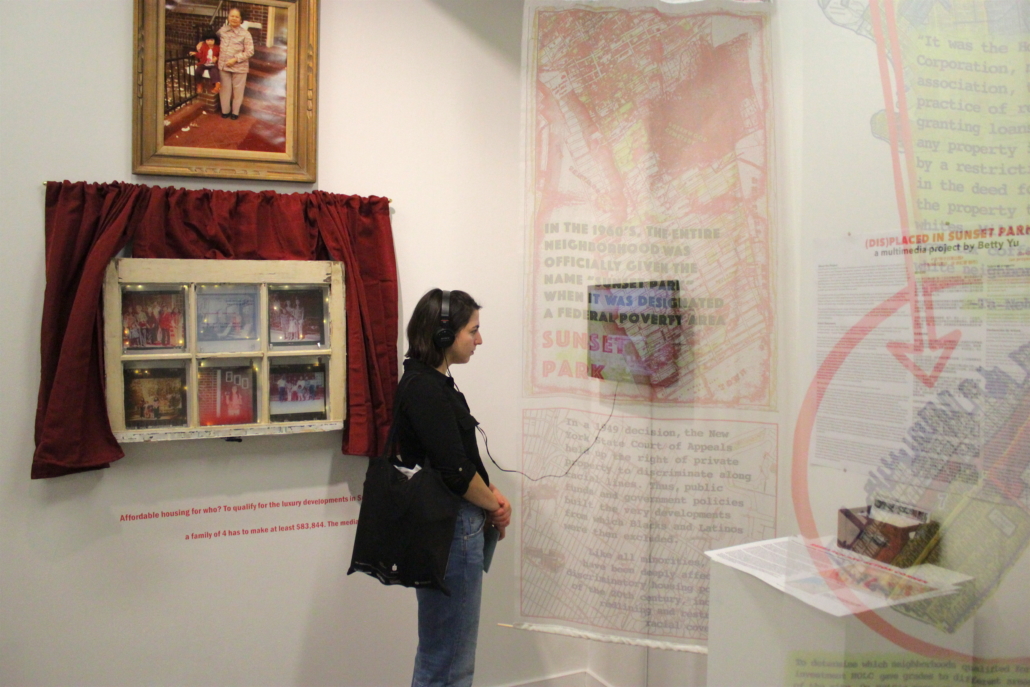 (Dis)Placed in Sunset Park (2019)
My family was part of the early wave of Chinese-American families to move into Sunset Park back in the late 1970's. Using myself as an entry point into the exhibition and project, I document the impact of gentrification on the cultural fabric, community life and changing racial demographics of Sunset Park through my own story and the stories of others. (Dis)Placed in Sunset Park also examines and interrogates the shifting borders of Sunset Park as it relates to the changing boundaries for plans created by real estate speculators and developers. The mapping aspect of this project highlights contrasting definitions of legitimate space and belonging.
Installation photo from BRIC Biennial
---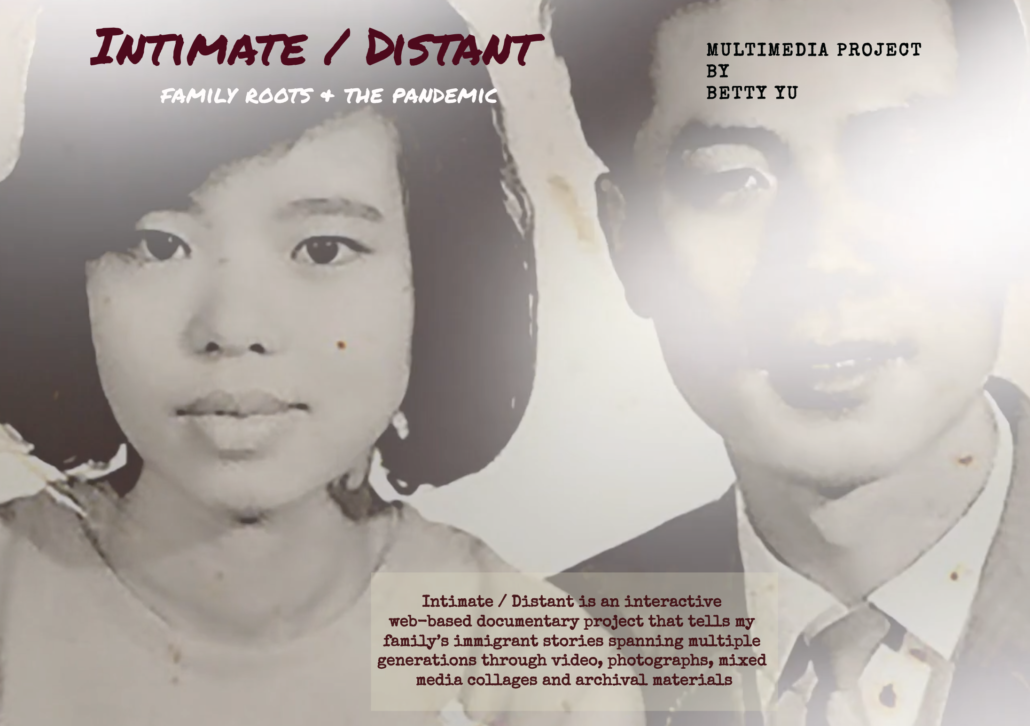 Intimate/Distant (2020)
During the fall of 2019, I started to photograph my parents and the impact that gentrification has had on both their daily lives and future in New York City's Sunset Park, Brooklyn, neighborhood. Then COVID-19 changed everything. Instead of photographing my parents in our family house, I have had to rely on FaceTime calls and my mom's cell phone images to stay connected to them. This project, especially during the pandemic, has allowed me to explore my internal and external life as a Chinese American with multiple generations of trauma and resilience in the United States.
Screenshot from website
---

Degentrifying My Parents' Block (2020)
This photo is from a mixed media work in progress that uses 360° video, augmented reality, and photography to re-imagine a new society where housing is free for all and real estate profiteers are outlawed. It incorporates the voices of my parents, neighbors, and other Latinx and Chinese residents of Brooklyn's hyper-gentrifying neighborhood of Sunset Park, where I grew up.
Digital print
76″ x 13″
$250
---
ABOUT THE ARTIST
Betty Yu is a multimedia artist, photographer, filmmaker and activist born and raised in NYC to Chinese immigrant parents. Ms. Yu integrates documentary film, new media platforms, and community-infused approaches into her practice, and she is a co-founder of Chinatown Art Brigade, a cultural collective using art to advance anti-gentrification organizing. Ms. Yu has been awarded artist residencies and fellowships with the Laundromat Project, International Studio & Curatorial Program, Intercultural Leadership Institute, and Santa Fe Art Institute.
Her work has been presented at the Directors Guild of America, Brooklyn Museum, Margaret Mead Film and Video Festival, Tribeca Film Festival's Interactive Showcase, Queens Museum, the 2019 BRIC Biennial; and in 2018 she had a solo exhibition at Open Source Gallery in New York. In 2017 Ms. Yu won the Aronson Journalism for Social Justice Award for her film Three Tours about U.S. veterans returning home from war in Iraq, and their journey to overcome PTSD. She holds a BFA from NYU's Tisch School of the Arts, a MFA from Hunter College and an International Center Photography New Media Narratives One Year Certificate. Ms. Yu teaches video, social practice, art and activism at Pratt Institute, John Jay College, and The New Schoo. In addition she has over 20 years of community, media justice, and labor organizing work. Betty will have her curatorial debut this Fall as she presents Imagining De-Gentrified Futures, an exhibition that will feature artists of color, activists and others along with her own work at Apex Art in Tribeca, NYC. Betty sits on the boards of Third World Newsreel and Working Films.