OSH's 1.5 acres of gardens provide the foundation for a variety of environmental education programs for adults and children. From Traditional Medicinals – a program for school groups — as well as walks, talks and community programs throughout the year, it's possible to engage with and draw knowledge from our rich urban landscape.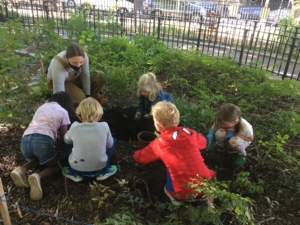 GARDEN EXPLORERS SPRING 2021
Outdoor Fun for Kids
Ages 7 to 11
10 Sessions – Full or Half Day
Session 1:  Tuesdays April 6 to June 8
Session 2:  Wednesdays April 7 to June 9
Session 3:  Thursdays April 8 to June 10
Full Day Session:  Noon to 5 pm | Half Day Session: 2 pm to 5 pm
Maximum 10 Students
Are we ready for Spring?
Join us for some safe outdoor fun beginning in April! In-person sessions are weather permitting, with an informal 90-minute Virtual session in inclement weather.
Reading, writing and math support as well as arts and crafts in our beautiful gardens. Rainy days will be virtual, with stay-at-home projects and online meetings via ZOOM.
Suggested activities
Compasses, maps and orienteering
Seeds, planting and seed collages
Botanical drawing
Garden journals
Herbs, fruits and roots
Pickling
Potpourris and tinctures
Rain Date activities (Via Zoom)
Paper engineering
Create your own board game
TUITION
Full Days $600 | Half Days $400
Financial aid available
Register here today!
Contact education@theoldstonehouse.org for more information.