ELLA MAHONEY
---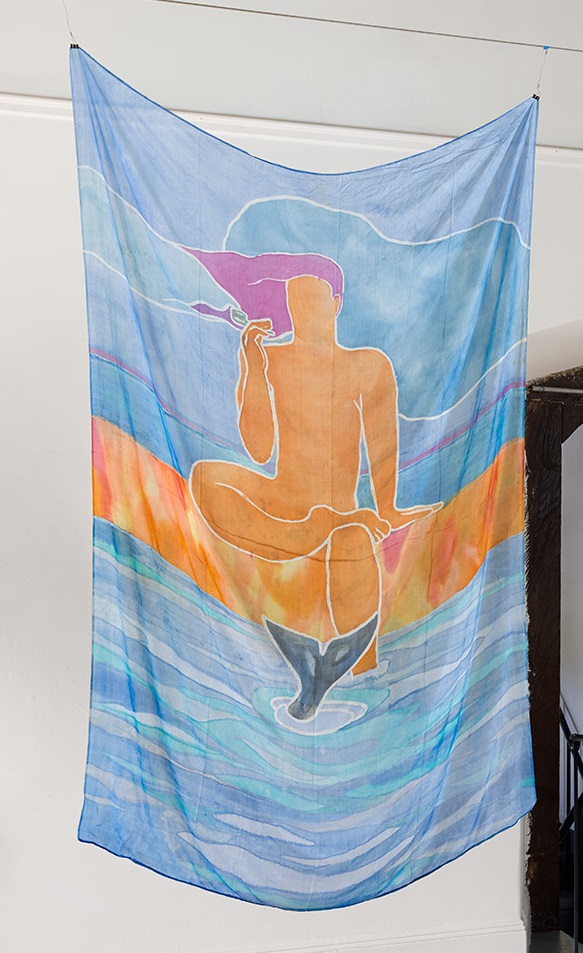 Wind, Water, Waves (2020)
Painting on silk, approximately 53″ x 80″
What is wellness to you? When I think of my own wellness I cannot separate myself from the land and the place I come from, from the water and the stories it gives, and from taking care of and grounding my body. When my body is well, my mind and spirit are too. In Wopanaak, cheepayahkumuqut (hell), is not a fiery pit but an empty skull or losing your mind.
This is one of three panels that depict Moshup sitting on the Aquinnah cliffs next to the ocean smoking his pipe with three whales swimming in the water below him. According to legend, Moshup was a giant who was the protector and provider of the Wampanoag people. He was so big that he would pick up whales from the water to feed the people and kill them by slamming them against the cliffs. They say that is how the cliffs got their colors. He left the people to fend for themselves when colonists came to the island and gave the tribe a choice to become whales or remain human and fend for themselves. In Aquinnah, we say when the fog rolls over, that's Moshup smoking his pipe. According to legend someday, he will return.
See more of these panels in the video below.
---
This video show a triptych of silk paintings and recorded soundscapes around Aquinnah, MA, with collected writing and recordings from conversations with Wampanoag tribal members of what water means to them.
---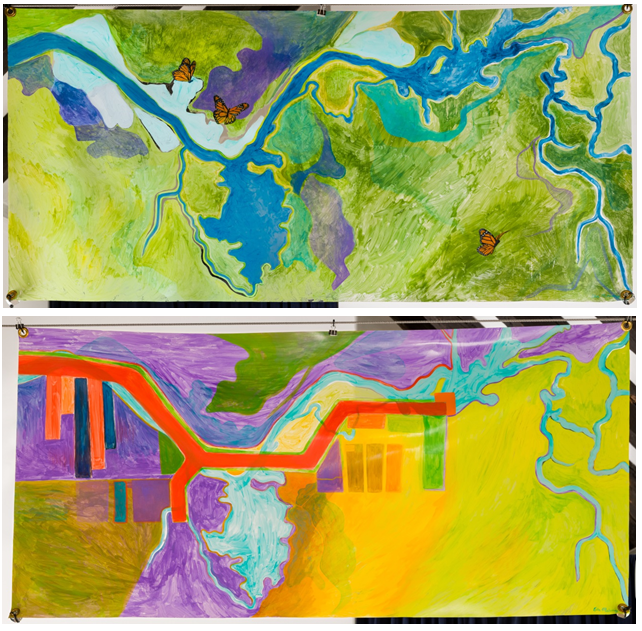 Reimagining Gowanus: CSO Zero (2021)
Acrylic paint on vinyl, set of two, 27" x 60" each
These paintings consider the planned rezoning of the Gowanus Canal and the current state of the area through mapping, and aim to imagine what the space could be if we healed our relationship to the land and water. With the planned rezoning of the canal, there is potential to consider the affordability and access of the area to marginalized populations. In building new infrastructure and greening the neighborhood, how can we also care better for our people? How do we make space in the city ecosystem to care for all beings? The green painting represents historical maps of the Gowanus Canal and surrounding stream system, some of which still exists underneath the city today. The other represents the canal as it exists today. The red stripe represents the canal and the various colors surrounding it represent pieces of the rezoning plan, including space taken up by industrial buildings versus affordable and low income housing and green spaces.
As an Aquinnah Wampanoag painter and illustrator based in Brooklyn, my work is based on storytelling and draws inspiration from creation stories and narratives of my personal experience of indigeneity through the lenses of love and nature. Questions such as, "What is your story with water?" and, "How do you care for the water or how does it help you care for yourself?" are asked with the idea that when we build relationships with the land, water, and non-human creatures, it affects the ways we interact with the world around us.
---
ABOUT THE ARTIST
Ella Mahoney is a member of Wampanoag Tribe of Gay Head (Aquinnah) based in Brooklyn, NY; an artist, illustrator, and teacher. She received her BFA in Illustration from the School of Visual Arts in New York City and has since illustrated children's books, exhibited work in many galleries, and created installations in collaboration with performers. Primarily working in oil, acrylic, and most recently silk paint; her work is based in storytelling and draws inspiration from creation stories; as well as from narratives of her personal experience of indigeneity through lenses of love and nature. Her recent projects explore large-scale silk painting and installation as a medium that invites people to play and participate in creating comfortable, loving spaces connecting them to each other and the surrounding environments.
Follow her on Instagram at @ellamm12.