JODY WOOD
THE INDEPENDENCE TREATMENT CENTER
The Independence Treatment Center (ITC) is an experimental art project and perceptual investigation of American notions of independence. Participants are invited to take an online self-test measuring unhealthy levels of independence and self-sufficiency and dependence aversion. Some participants with high levels of independence will be invited to partake in a one-on-one performance consisting of integrating healthy levels of dependence into their daily lives.
ITC aims to develop and valorize often unsung strengths – the competencies of one to collaborate, coproduce, cultivate  vulnerability, and to freely give and ask for help. Instead of being perceived as a ubiquitous and inevitable part of the human experience, dependency often catches us off guard. The tangible strengths of independence often occlude other intangible strengths that have their place too. Acceptance of our human dependence is often dismissed through appeals to fantasies of independence and self-sufficiency. These fantasies perpetuate the myth that people who are in need are deficient.
As Brooklyn becomes more unaffordable, it is an especially difficult place to find oneself in a situation of dependency. It risks becoming a place where only young, able- bodied, economically self-sufficient people can access quality of life. These inequities and deficiencies in our social safety net have become more pronounced during the COVID-19 pandemic, with many citizens relying on the aid of the government as well as their neighbors for the first time, and/or forced to seek new ways to connect during physical isolation. ITC envisions a future for Brooklyn where our universal vulnerability and dependence is normalized and accepted in the social realm.
Instructions for participants: After taking the self-test, you will receive immediate feedback about how your answers compare with others. A limited number of participants will be invited to sign up for personalized one-on-one treatment sessions with the artist over Zoom. Participants who receive consultations will collaborate with the artist on their personalized care plan and check-up schedule.
---
Create your own user feedback survey
---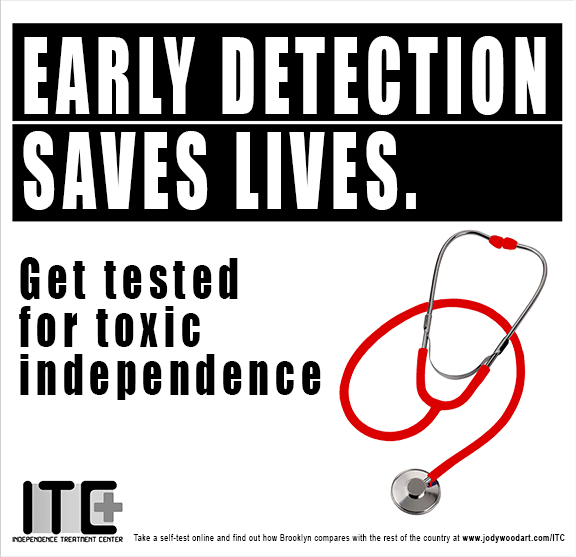 Early Detection Saves Lives Poster (2020)
Digital print poster
20″ x 20 "
---
---
---
---
ABOUT THE ARTIST
Jody Wood is an artist working in mediums of social practice, video, photography, and performance. Her community-based work has been supported by prestigious institutions including A Blade of Grass, Esopus Foundation, Rema Hort Mann Foundation, an ArtPlace America Initiative at McColl Center for Art + Innovation, and through residencies at Headlands Center for the Arts, Yaddo, and Skowhegan School for Painting and Sculpture. Her work has been exhibited internationally at Manchester School of Art, UK; The 8th Floor in NYC, Rond-Point Projects in Marseilles, France, and has been featured in publications such as The Atlantic, Hyperallergic, The Art Newspaper, and MSNBC.