ROCHELLE SHICOFF
AFTER ALL THE LEAVES HAVE FALLEN & TELLING THEIR STORY
My interest in the Middle East goes back to my visit to Egypt in 1980. This trip still resonates within me: the grandeur of the desert, the spectacular ancient monuments, the Arabic language, the markets and the people. I currently live in Bay Ridge, Brooklyn, part-time. Bay Ridge is a community with a large Arabic population. My neighbors are from Egypt, Lebanon, Syria, Palestine and Yemen. It is peaceful, quiet, and organized around the neighborhood mosque, schools, and commerce. It is a culturally distinct community and in many ways a utopia.
My painting series After All The Leaves Have Fallen: Muslim Women And Their Traditions emerged from and was influenced by my living for many years in Bay Ridge, Brooklyn. This painting series was originally referred to by me as "the women in black," but as I developed the images, the paintings expanded to include many of their traditions. As I worked, I began to create miniature scenes to describe Muslim customs: the camel culture, pottery markets, a profusion of patterns in the rugs, fabrics, hand and leg tattoos.
The included poster Telling Their Story reflects my involvement with the Arab American Association of New York and interviews with women members about their country of origin and experiences living in the U.S. Many of them stated that they were both surprised and pleased that I was "telling their story" through my painting series.
---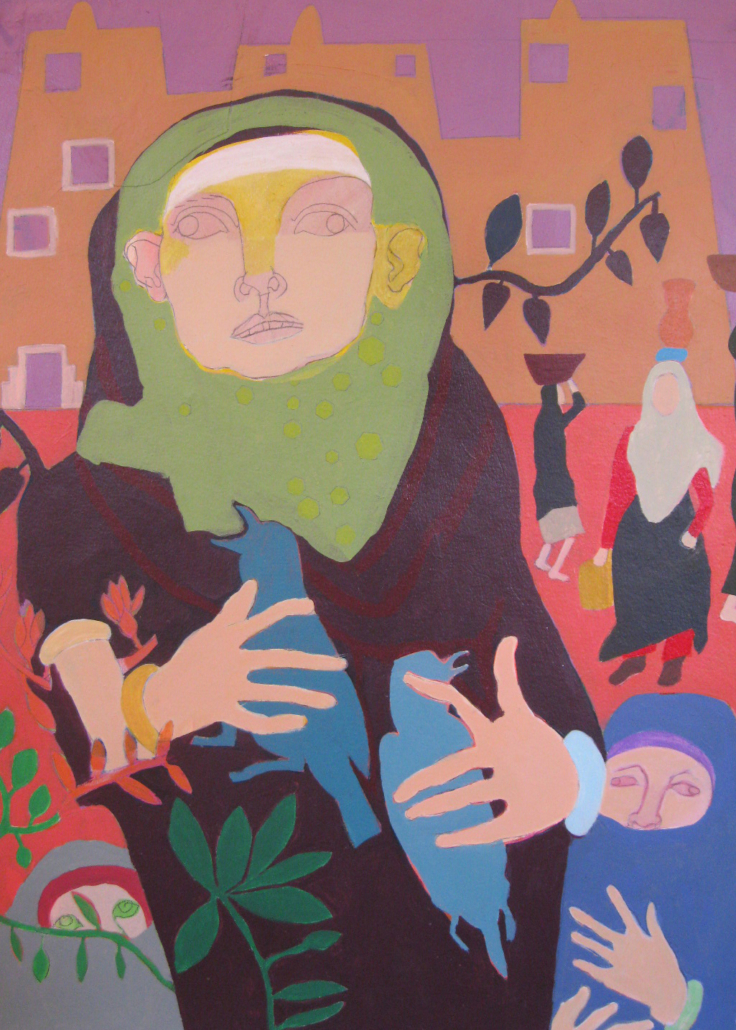 Breath of Spring (2015)
The center figure in Breath Of Spring is protecting 2 birds while the 2 women on both sides are keeping her safe. This painting expresses mutual caring.
Acrylic on paper
30″ x 32″
$400
---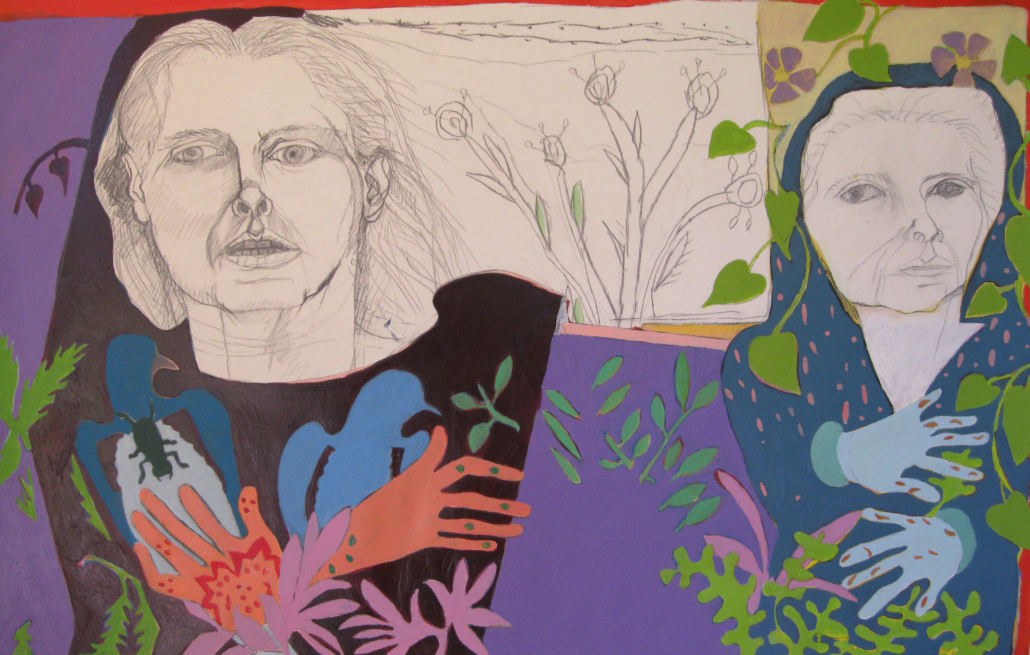 Walk Beside Me (2015)
Community, friendship and commonality are depicted in Walk Beside Me It is a tranquil, peaceful scene. The two women are surrounded by foliage, birds and insects. The women are gazing directly at the viewer and looking forward, representing empowerment, resilience and strength. They carry in their bodies and eyes a hope for a positive future.
Pencil drawing and acrylic on paper
23″ x 35″
$400
---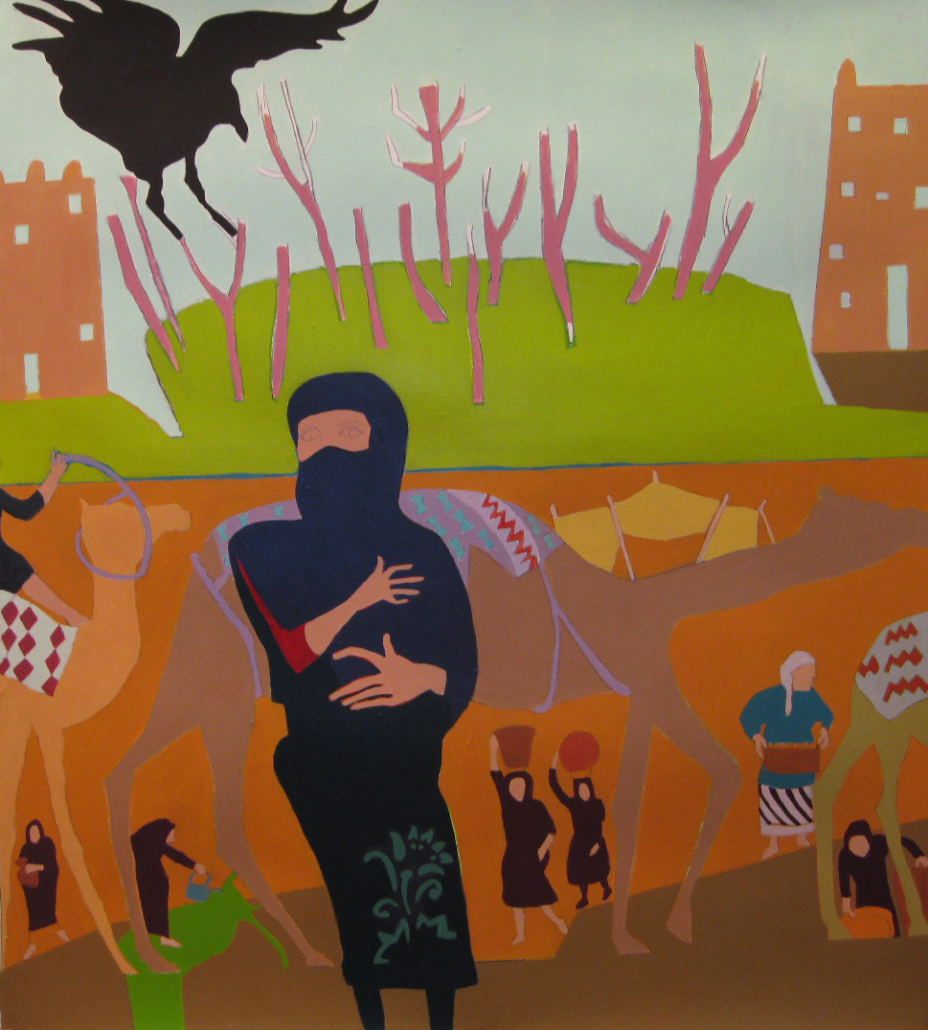 Difficult and Easy (2015)
Difficult and Easy introduces, through the black bird, possible difficulties. Women are working side by side engaging in their traditional activities.
Acrylic on paper
40″ x 37″
$850
---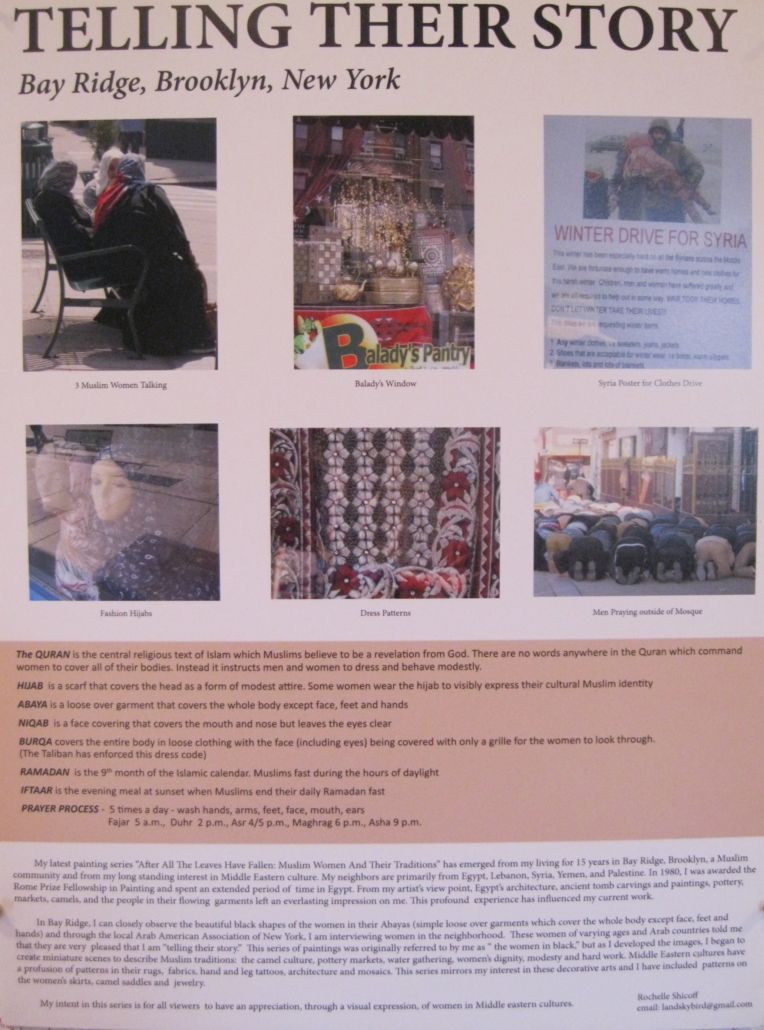 Telling Their Story (2015)
This poster is the transition between the traditions portrayed in the paintings and the contemporary lifestyles of the current Middle Eastern Bay Ridge residents. The poster has Arabic words that are translated for the viewer's ease of understanding.
Digital print on paper, all photos taken by artist in Bay Ridge, Brooklyn
---
ABOUT THE ARTIST
For over 25 years Rochelle Shicoff has worked with numerous communities in New York City and elsewhere in the United States creating murals on human rights issues. Historically, Art has played an important role in communicating issues of social justice and human rights. She hopes that this series invites the viewer into a world that provides answers but also engenders thoughtful discussion. She has given public talks to community members in Amherst and Northampton, MA regarding the subject matter addressed in the paintings.