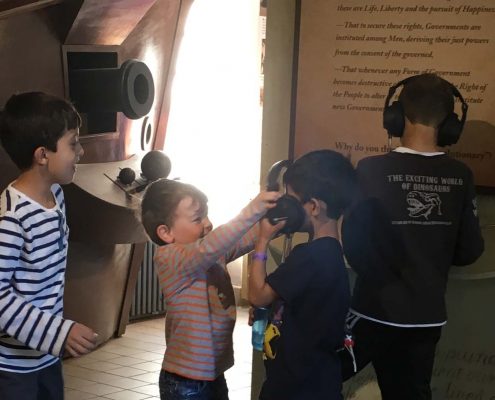 Permanent Exhibit
The Old Stone House: Witness to War – An Exhibit Exploring the Battle of Brooklyn and the Occupation, 1776-1783
Opening in August, 2016, in time for the 240th anniversary of the Battle of Brooklyn, Old Stone House: Witness to War is a self-directed exhibit that takes visitors on a journey through the Revolutionary Era in Brooklyn from 1776 until 1783.  Ten themed areas allow visitors to explore this history and consider how war impacted the community, what choices citizens had to make at the time, battle strategies, and what makes these issues relevant in today's world.
Historians
Patricia Bonomi
Edwin Burrows
Barnet Schecter
Content Development
Ellen Snyder Grenier
Janet Rassweiler
Exhibit Designers & Fabricators
May & Watkins
Interactives
Panoramic Studios
Temporary Exhibit
Multilocational 
Through June 25, 2017
A contemporary art exhibit curated by Katherine Gressel
Multilocational is defined as "of, pertaining to, or being present in more than one location." It subtly plays on the words multicultural or multinational, or of mixed ancestry or residence. For those who have migrated from one location to another–in some cases by force– "multilocational" also conveys the struggle (or joy) of holding on to memories of an original home while embracing a new one. As the United States currently balances the ideals of isolationism and homogenization against openness and diversity, it is important to consider how our immigrant nation has historically accommodated multiple peoples and perspectives–and the role of artists and art institutions in presenting and preserving their stories.
Artists Cecile Chong and Natalia Nakazawa have made such questions central to their practice, layering disparate materials, narratives, and appropriated cultural images in works that invoke the personal and political. Their art embodies Marshall McLuhan's notion of "the supplanting of the linear perspective by a multi-locational mode of perception."
Presented in the Old Stone House's (OSH's) Great Room gallery, Multilocational exhibits bodies of work inspired by the artists' hybridized cultural backgrounds, OSH's history (as a reconstructed Dutch colonial farmhouse and Revolutionary War battleground) and  surrounding communities, and current events.   Both educators in the NYC public schools, Chong and Nakazawa will also each present collaborative work created with local students related to the exhibition theme, and public programs to engage the larger community.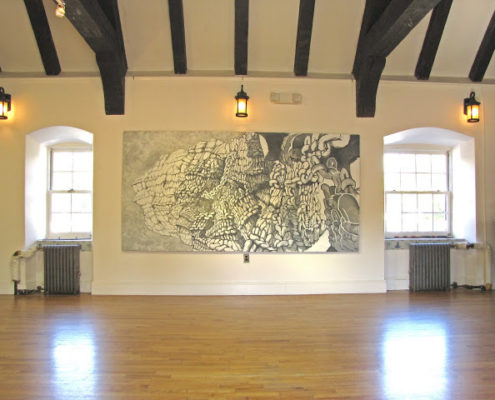 Past Exhibits
Domesticated
A contemporary art exhibition curated by Abby Subak Exhibiting Artists: Liza Cassidy; Paul Gagnier; Sara Jones; Tara Kopp; Susan Newmark; Abby Subak and Jessica Weiss,  challenging assumptions about gender roles and how these assumptions impact our views of ourselves and our partnerships.
Appropriating Revolution 
A contemporary art exhibition curated by Katherine Gressel, featuring artists Lauren Frances Adams, Jim Costanzo [Aaron Burr Society], Gen Howe, Robert Gould, Alicia Grullon, and Nsenga Knight exploring how artists are incorporating (and sometimes reinterpreting) the symbols of past revolutions to inform their current socially-engaged work.
Common Ground Gowanus

Common Ground Gowanus celebrated the creativity nurtured in the neighborhoods around the Gowanus Canal.
In Search of One City: Sensing (In)equality
In Search of One City explored artists' role in investigating, navigating, and mitigating income inequality, with a focus on New York City.  Check out one of the exhibit's public programs: Creating for Hire: Supporting a Thriving Artistic Practice through Commissions a BK Brainstorm courtesey of BRICartsmedia.
Gowanus Public Art Initiative
Gowanus Public Art Initiative presented several eleven-month-long public art installations in the Gowanus neighborhood.
Brooklyn Utopias: In TRANSITion (2013)
In TRANSITion (2013) brought together 19 artists and arts groups responding to differing visions of ideal urban transportation systems or proposing their own.
Brooklyn Utopias: Park Space, Play Space (2012)
Park Space, Play Space brought together 19 artists and arts groups to address the ideal design, planning and use of public parks.