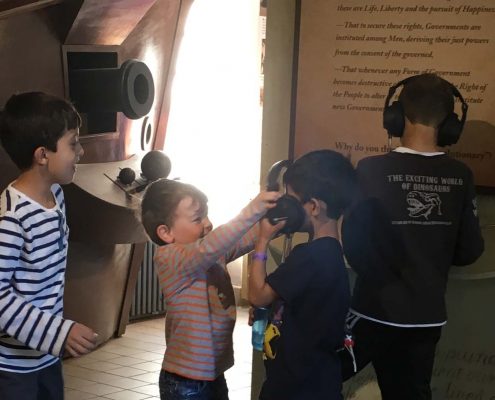 Permanent Exhibit
The Old Stone House: Witness to War – An Exhibit Exploring the Battle of Brooklyn and the Occupation, 1776-1783
Opening in August, 2016, in time for the 240th anniversary of the Battle of Brooklyn, Old Stone House: Witness to War is a self-directed exhibit that takes visitors on a journey through the Revolutionary Era in Brooklyn from 1776 until 1783.  Ten themed areas allow visitors to explore this history and consider how war impacted the community, what choices citizens had to make at the time, battle strategies, and what makes these issues relevant in today's world.
Historians
Patricia Bonomi
Edwin Burrows
Barnet Schecter
Content Development
Ellen Snyder Grenier
Janet Rassweiler
Exhibit Designers & Fabricators
May & Watkins
Interactives
Panoramic Studios
Temporary Exhibit
Being Well: In Search of Utopia?
On View Through January 7, 2018
Participating Artists: Zoey Hart, Leslie Kerby, Anthony Heinz May, Carolyn Monastra, Shana Moulton, Carmen Papalia, Shervone Neckles, Jenna Spevack, Tattfoo Tan, Jody Wood
Artist Selection Committee: Mitra Dejkameh, Co-Interim Director of Education and Manager, ArtAccess Programs and Autism Initiatives, Queens Museum; Katherine Gressel, Contemporary Curator, Old Stone House; Claudia Joseph, head of gardening and permaculture programs, Old Stone House; Kim Maier, Old Stone House Executive Director; Sara Reisman, Executive and Artistic Director, Shelley and Donald Rubin Foundation
Made possible with support from the Puffin Foundation, and the New York City Department of Cultural Affairs
OVERVIEW
Utopia: An ideal place or state
What would an ideal (or "utopian") state of community health and wellness look like and how are current efforts succeeding or failing?
Being Well: In Search of Utopia? is a group exhibition exploring artists' role in defining and facilitating community health and wellness. At a time of anxiety over the future of healthcare, the environment, and a population increasingly divided, individual and collective healing are at the forefront of many conversations. According to arts think tank Createquity, not only can the presence of the arts lead to improved outcomes in various healthcare settings, arts participation itself "is associated with subjective wellbeing, or one's perceived quality of life." The artists in Being Well operate in the realms of empathy, self empowerment/self care, and social critique/activism to define and advance different aspects of personal and societal well being – including questioning the ability of policymakers and corporations to regulate our physical, mental and environmental health effectively, transparently and equitably.
Projects include Zoey Hart's wearable "Empathy Suits" that provide a tactile reference to others' pain as a means to mutual understanding; Carmen Papalia's tenets of "Open Access" in favor of a more inclusive and grassroots approach to accessibility; and Jody Wood's theater-based workshops encouraging self-care among care workers who experience "secondary trauma." Events and installations by Shervone Neckles, Tattfoo Tan, and Jenna Spevack explore the importance of spiritual and natural remedies and their connection to culture and community. Leslie Kerby, Anthony Heinz May and Shana Moulton appropriate and/or question the "utopian" messaging of politicians, medical providers, and insurance and big pharma/big farming companies that attempt to provide and sometimes profit from wellness. Carolyn Monastra's ongoing "Witness Tree" photography project documenting the effects of and solutions for global climate change and corresponding "Postcards for Politicians" workshop imply that the quest for wellness resides not only within individuals and communities, but in petitioning our leaders for change.
The Old Stone House itself aims to contribute to community wellness, with 1.5 acres of history and habitat gardens developed by Claudia Joseph, beginning in 2004. The gardens are social interaction centers as much as they are food, medicine and craft resources. As a 1776 Battle of Brooklyn site, OSH also symbolizes American Revolutionary ideals such as the right to life and the pursuit of happiness. In a political age when the fundamental right to "be well" is seen by many as under threat, this exhibition also asks, is universal well being achievable, or, in fact, a failed utopia?
Being Well: in Search of Utopia? is made possible, in part, by the Puffin Foundation and the New York City Department of Cultural Affairs.
Public Programs
Sunday, September 24, 2-4 p.m.
Creative Wellness Gathering Station with Shervone Neckles
Learn about early civilizations' use of herbs and create an herbal mix to support your individual wellness needs.
Sunday, October 1, 2-4 p.m.
Postcards for Politicians community art workshop with Carolyn Monastra
Create handmade postcards about your concerns with climate change and health to send to your legislators.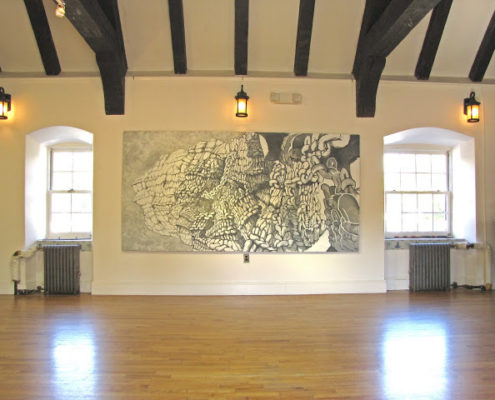 Past Exhibits
Multilocational (2017)
A contemporary art exhibit curated by Katherine Gressel, considering how our immigrant nation has historically accommodated multiple peoples and perspectives–and the role of artists and art institutions in presenting and preserving their stories, featuring the work of artists Cecile Chong and Natalia Nakazawa.
This program was supported, in part, by public funds from the New York City Department of Cultural Affairs, in partnership with City Councilmember David Greenfield.
Domesticated (2016)
A contemporary art exhibition curated by Abby Subak Exhibiting Artists: Liza Cassidy; Paul Gagnier; Sara Jones; Tara Kopp; Susan Newmark; Abby Subak and Jessica Weiss,  challenging assumptions about gender roles and how these assumptions impact our views of ourselves and our partnerships.
Appropriating Revolution (2016)

A contemporary art exhibition curated by Katherine Gressel, featuring artists Lauren Frances Adams, Jim Costanzo [Aaron Burr Society], Gen Howe, Robert Gould, Alicia Grullon, and Nsenga Knight exploring how artists are incorporating (and sometimes reinterpreting) the symbols of past revolutions to inform their current socially-engaged work.
Common Ground Gowanus (2015)

Common Ground Gowanus celebrated the creativity nurtured in the neighborhoods around the Gowanus Canal.
In Search of One City: Sensing (In)equality (2015)
In Search of One City explored artists' role in investigating, navigating, and mitigating income inequality, with a focus on New York City.  Check out one of the exhibit's public programs: Creating for Hire: Supporting a Thriving Artistic Practice through Commissions a BK Brainstorm courtesey of BRICartsmedia.
Gowanus Public Art Initiative (2014)
Gowanus Public Art Initiative presented several eleven-month-long public art installations in the Gowanus neighborhood.
Brooklyn Utopias: In TRANSITion (2013)
In TRANSITion (2013) brought together 19 artists and arts groups responding to differing visions of ideal urban transportation systems or proposing their own.
Brooklyn Utopias: Park Space, Play Space (2012)
Park Space, Play Space brought together 19 artists and arts groups to address the ideal design, planning and use of public parks.