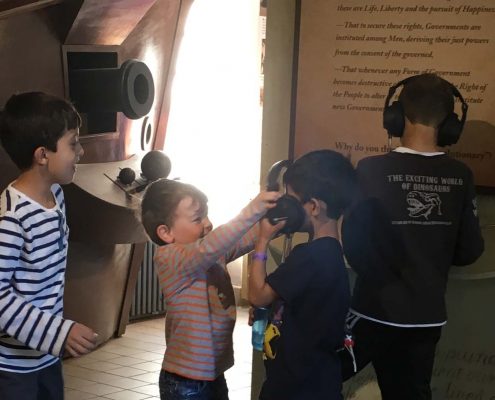 Permanent Exhibit
The Old Stone House: Witness to War – An Exhibit Exploring the Battle of Brooklyn and the Occupation, 1776-1783
Opening in August, 2016, in time for the 240th anniversary of the Battle of Brooklyn, Old Stone House: Witness to War is a self-directed exhibit that takes visitors on a journey through the Revolutionary Era in Brooklyn from 1776 until 1783.  Ten themed areas allow visitors to explore this history and consider how war impacted the community, what choices citizens had to make at the time, battle strategies, and what makes these issues relevant in today's world.
Historians
Patricia Bonomi
Edwin Burrows
Barnet Schecter
Content Development
Ellen Snyder Grenier
Janet Rassweiler
Exhibit Designers & Fabricators
May & Watkins
Interactives
Panoramic Studios
Temporary Exhibit
Domesticated
Through January 2017
A contemporary art exhibition curated by Abby Subak
Exhibiting Artists: Liza Cassidy; Paul Gagnier; Sara Jones; Tara Kopp; Susan Newmark; Abby Subak and Jessica Weiss
When people reference gender stereotypes, with men going "out into the world" to earn the income and women staying home to take care of household chores, they often reference
the 1950s. This implies that these gender roles are of a time past. Yet, while gender assumptions have undoubtedly evolved over the past 6+ decades, today the bulk of
household chores still falls to the woman of the house. The Council on Contemporary Families reported in 2015 that although men pick up more housework than they used to,
women still do a larger portion, sometimes even three times as much.
The artworks in Domesticated aim to challenge assumptions about gender roles and how these assumptions impact our views of ourselves and our partnerships. Domesticity can be a joy and an expression of love for your life and your family. Yet feeling domesticated can also be constraining and limiting. The exhibiting contemporary artists struggle with balancing the upkeep of their daily lives and quotidien chores, and their desire to make a contribution to a broader society. These artworks explore these tensions through examining relationships to the space we live in, architecturally, decoratively, and psychically. They reflect a tension between interior and exterior, literally and figuratively, and the struggle to find balance and respect for each. They also grapple with the interior psychological space of home and gender roles.
Literal depictions of household chores are found in the works of Liza Cassidy , Tara Kopp , and Abby Graf Subak . Decorative elements of the home represent confinement and sometimes confusion, yet also beauty, in the work of Sara Jones , Susan Newmark , and Jessica Weiss . Attempts to make sense of the physical and architectural space is found in the work of Sara Jones and Paul Gagnier . The repetition of domestic and decorative patterns permeates the show, paralleling the repetition of daily chores that are never finished, as artists seek to create meaning from this repetition, particularly in the works of Liza Cassidy , Sara Jones , Susan Newmark , Jessica Weiss .
This exhibition is sponsored, in part, by the New York State Council on the Arts.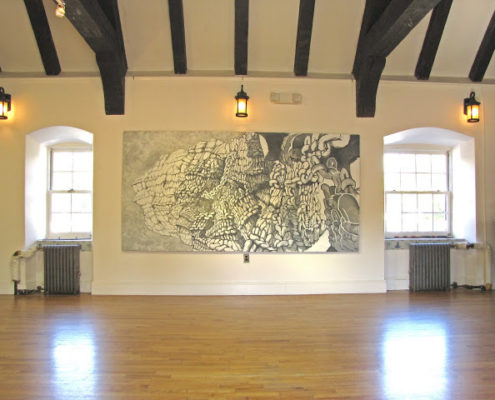 Past Exhibits
Appropriating Revolution 
A contemporary art exhibition curated by Katherine Gressel, featuring artists Lauren Frances Adams, Jim Costanzo [Aaron Burr Society], Gen Howe, Robert Gould, Alicia Grullon, and Nsenga Knight exploring how artists are incorporating (and sometimes reinterpreting) the symbols of past revolutions to inform their current socially-engaged work. August 26- October 8, 2016
Common Ground Gowanus

Common Ground Gowanus celebrated the creativity nurtured in the neighborhoods around the Gowanus Canal.
In Search of One City: Sensing (In)equality
In Search of One City explored artists' role in investigating, navigating, and mitigating income inequality, with a focus on New York City.
Gowanus Public Art Initiative
Gowanus Public Art Initiative presented several eleven-month-long public art installations in the Gowanus neighborhood.
Brooklyn Utopias: In TRANSITion (2013)
In TRANSITion (2013) brought together 19 artists and arts groups responding to differing visions of ideal urban transportation systems or proposing their own.
Brooklyn Utopias: Park Space, Play Space (2012)
Park Space, Play Space brought together 19 artists and arts groups to address the ideal design, planning and use of public parks.