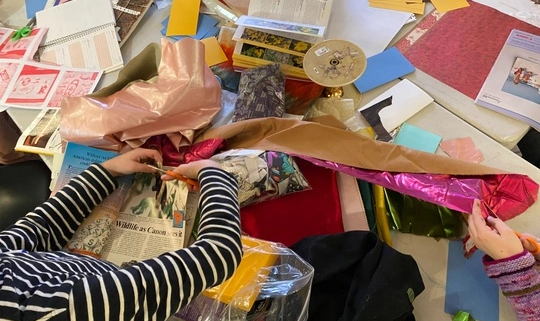 Zines After School (ZAS) is an arts education program of Booklyn, Inc., for 2nd – 5th graders (ages 6-11) that will take place Wednesdays, 3−6 pm at Old Stone House at JJ Byrne Playground in Park Slope, Brooklyn (NYC). ZAS teaches zine and bookmaking as a community-centered practice that builds social-emotional learning and teaches skill development to create self-determined storytelling.
We believe that zine-making is a joyful and collective practice with a rich history in activism, feminism, identity, and personal agency. Zine spaces, to us, are safe spaces for wondering and for personal and group exploration. We want to provide young people with safe, authentic opportunities to make decisions and even grapple with discomfort when it arises. ZAS will support kids to reflect on personal experiences and consider relationships between those experiences and the world around them.
ZAS builds on our experiences with Zine Camp and adds a new and expansive curriculum and lesson plans! Some things we'll do during ZAS are…
Learn about all kinds of zines and techniques like, one-page zines, accordion fold, coil binding, flag books, and more!
Explore collaborative storytelling activities and create group zines.
Enjoy unstructured chill time daily (reading, drawing, or supervised playing on the playground).
Build our own zine collections–each student will have their own Collection Box to keep the zines they make, swap, or collect throughout the session.
Reuse and recycle household materials for bookmaking.
Create unique approaches to editioning and distributing zines.
Make consensus-based group decisions.
Learn about how paper is made, and create paper sculptures to explore how different papers behave.
Curriculum Designer: Kameelah Janan Rasheed
Lead Educators: Monica Johnson & Jan Descartes
***PLEASE NOTE: We offer school pick up at these schools only: PS118, PS39, PS321, PS372***
Zine Camp is made possible with the support of the New York City Department of Cultural Affairs, in partnership with the NY City Council.
https://www.hisawyer.com/booklyn-inc/schedules