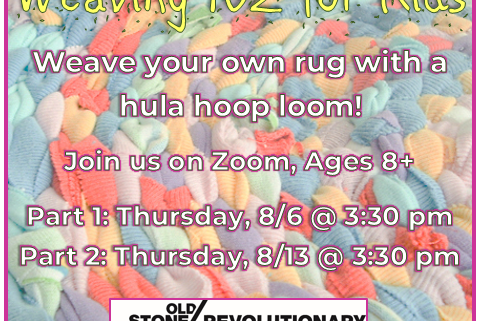 Join OSH Director of Education Maggie Weber to learn how to transform old T-shirts into a colorful rug using your Hula Hoop as a loom!
This quick and fun project for Kids 8+ requires: 1 Hula Hoop, several old T-shirts, scissors, and a roll of strong tape.
Adults will need to help kids cut the T-shirts into strips before class starts.
This is a virtual 2 week program. Session 1 we will start weaving by creating the round warp around the Hoop, and learn how to attach the T-shirt strips. Session 2 will be all about finishing the rug and learning how to tie it off. For the fullest experience, we recommend signing up for both weeks, but it is not required.
Register for Session 1 here.
Register for Session 2 here.
Supplies for this workshop will not be provided so please be diligent about gathering your items.