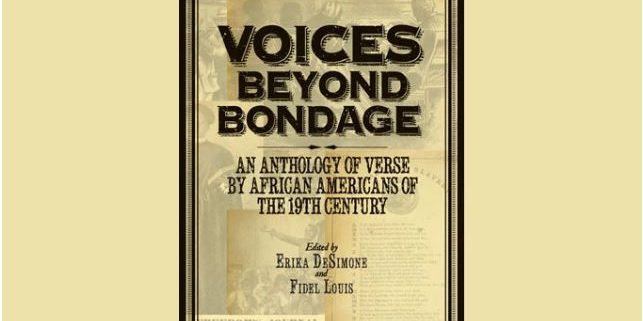 Voices Beyond Bondage is the first anthology to focus on the poetry of the 19th century's black owned press; Voices compiles 150 poems culled from thirty-six black owned newspapers into one unique volume. Voices also draws heavily on NYC's rich African American history; several of the newspapers included in the volume were published here in the city.  Join Erika DeSimone and Fidel Louis for a reading and conversation around this  almost completely neglected part of American history
Published in 2014, Voices has garnered national attention: The Tavis Smiley Radio Program; NPR's Here and Now; the New York Times and Washington Post (via the AP wire); and the Huffington Post have all featured Voices.  Fidel and I have given author talks at over two dozen institutions across the Northeast, including the PEN/Faulkner Center in Washington DC, The Boston Athenaeum, Manhattan's Jumel Mansion, the Harriet Beecher Stowe House in Hartford, and the Providence Athenaeum. Most recently Voices has also been featured on NYC's WBAI and in the Boston Globe.
The program will be followed by an audience-led Q&A, includes the reading of six poems, and will include at least one poem written by a New York author.