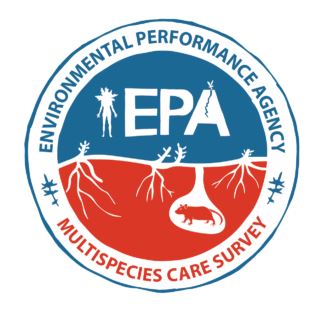 As we shield our breath from the virus, what does it mean to seek sharing breath with other species? How does the temporary pause of the pandemic provide an opportunity for us to sense the web of relations of breathing and air quality?
Dive into these questions in a virtual get-together with our friends from the Environmental Performance Agency. Multispecies Care Circle – Keep Lungs Active is the first of a series of care circles hosted as part of the Multispecies Care Survey; a project launched by the EPA on April 20, 2020 as part of our Regeneration in Place exhibition.
Prior to the Care Circle, participants are invited to engage with "Protocol 03: Keep Lungs Active", a prompt to experience air quality and exchange with other life forms.
Hosted in collaboration with Interference Archive and invited guest Nora Almeida, this care circle will explore EPA's new participatory project through the lens of archiving multispecies environmental attunement and the correlation to environmental rollbacks instituted during the pandemic.
To join the Virtual Multispecies Care Circle on Saturday, May 9, please RSVP by email to: environmentalperformanceagency@gmail.com.
Nora Almeida is a writer, librarian, and environmental / labor activist. She has volunteered at Interference Archive since 2015 and works at the New York City College of Technology (CUNY).
Interference Archive is a volunteer run open-stacks archive of social movement ephemera, exhibition venue, and community event space in Brooklyn, NY.
The Environmental Performance Agency (EPA) is an artist collective founded in 2017 and named in response to the ongoing rollback of Federal environmental policy at the U.S. Environmental Protection Agency.