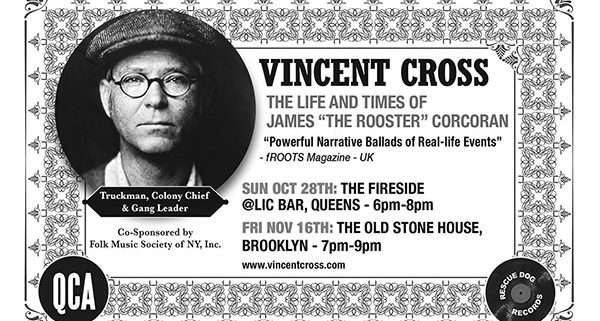 Come hear newly composed & arranged broadside ballads about this 19th Century Irish-American, truckman, gang leader, squatter colony chief and Vincent Cross's very distant uncle!
James "The Rooster" Corcoran was known for his "caustic tongue and ready wit," and was often stereotyped tabloid fodder for the newspapers of the 1800s. If you've ever seen the movie Gangs of New York, then this would be a musical accompaniment to the rogues, pimps, murders and thieves that inhabited New York City in the 19th century.
Tickets: $15 available in advance at Brown Paper Tickets, or at the door.
FInd us on Facebook
QAF NEW WORKS GRANTEE (2018) – Funded by the NYC Department of Cultural Affairs
SUZI WOLLENBERG SHOWCASE (2016)
#2 ALBUM FOLK DJ CHARTS (APRIL-2016)