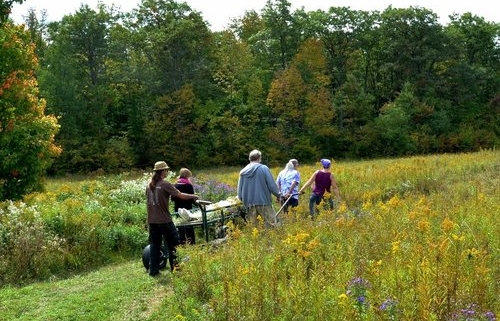 "Give me to the earth when my winter comes,
Bury me deep in the ground.
Mark not my place with statues or caves,
Find me where life can be found."
— LURANA BROWN
Thinking out your end-of-life wishes is never easy, but there are now new approaches to traditional funeral service that will leave you feeling surprisingly optimistic. Stewardship for the earth and care of the planet have not previously been high on most people's end-of-life wish lists. In fact, there's a common misconception that cremation is "greener" than full casket burial because the plot for an urn requires less cemetery space. This is not the case!
Join us to discuss how a formaldehyde-free burial in pine, willow or wool casket or dramatic shroud is kinder to the earth and one way your death could actually uplift others and return useful molecules to the soil from which we essentially sprang. You'll also hear about modern modes of accelerating the body's return to the soil in the works in other states. The good news is this: you can abide by the American burial practice of 200 years ago, and become a tree, after all!
Our thanks to Amy Cunningham and all her colleagues for their service and care for the community.
Amy is a New York state licensed funeral director, green burial advocate, and home funeral guide. She manages the lively blog The Inspired Funeral.com, and owns the firm Fitting Tributes Funeral Services.