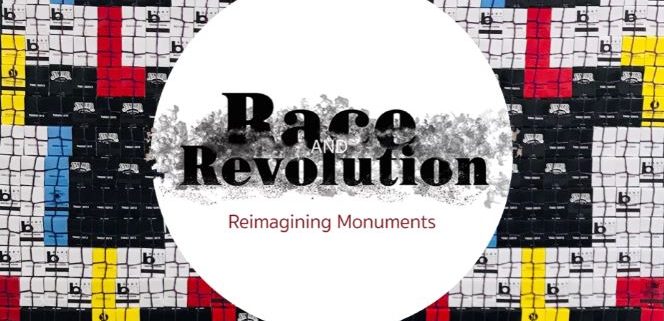 EXHIBIT OPENING MARCH 14 6 pm – 8 pm
on view through JUNE 14
Race and Revolution: Reimagining Monuments is the third iteration of Race and Revolution, a series curated by Katie Fuller that aims to bring the conversation of systemic race and racism from the past into the present by displaying excerpts from historical documents alongside contemporary artworks.
Reimagining Monuments questions the relationship between historical memory and historical monuments and the implications of the histories that remain absent. Sixteen artists respond to existing New York monuments or to sites they feel should have a monument. Alongside the artists' work, quotations from historical documents about the corresponding monuments or sites open up dialogue regarding a need to re-examine these physical, selective sound bites of memory.
Artists, selected through an open call, were invited to pull from a list of contentious spaces but could also suggest topics that inspired them. Their projects show a concern for language, prominence, place, transformation and reconciliation.
Through drawings, quilts, interactive sculptural pieces, public art and paintings the artists are concerned less with erecting massive symbols that define a limited perspective than they are in creating inclusive, dimensional histories. Their works address the often debated controversies around such figures as Christopher Columbus, George Washington and J. Marion Sims, and also offer insight into how collective thinking has shaped New York's story, confronting not only what we remember and memorialize, but how.
Artists: Kimberly Becoat, Alex Callender, Maureen Connor/Institute for Wishful Thinking, DARN Studio, Damien Davis, Rose Desiano, Ayasha Guerin, Zaq Landsberg, Jennifer Mack Watkins, Maureen McNeill, Lyra Monteiro, Sal Muñoz, Marilyn Nance, Emmaline Payette, Chip Thomas, Kamau Ware
About the Curator
Katie Fuller was an educator for eleven years before curating her first show, Race and Revolution: Exploring Human Injustices through Art, in the summer/fall of 2016. Her second show, Still Separate – Still Unequal, opened at Smack Mellon in summer 2017 and will finish a two-year tour at the August Wilson Cultural Center in Pittsburgh this spring/summer. She has another project titled Unbroken by Bars that addresses justice-involved women face and overcome. Her exhibitions have been reviewed by Vice, Hyperallergic, Art Forum, Daily Kos, Artsy, and more. In Fall 2019 Fuller will begin an Art Education PhD program at Florida State University.
Artist selection committee
Eva Maybahal Davis; Gallery and Studio Programs Manager; Smack Mellon; Katie Fuller, Independent Curator and Community Organizer; Katherine Gressel, Contemporary Curator, Old Stone House & Washington Park; Kendal Henry, Director, Percent for Art, NYC Department of Cultural Affairs; Kim Maier, Executive Director, Old Stone House & Washington Park; Maggie Weber, Director of Education, Old Stone House & Washington Park
Funding is made possible in part by the New York City Department of Cultural Affairs and the Puffin Foundation.