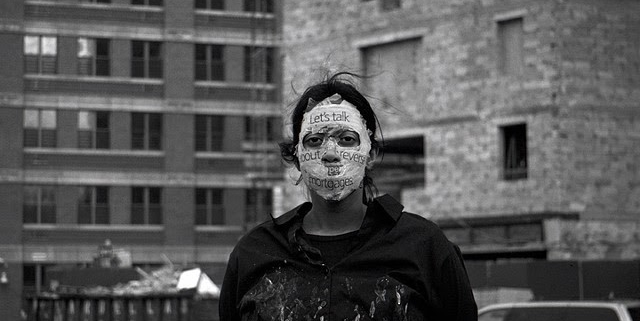 Presence is an exhibition curated by Katherine Gressel which explores the evolution of artist Alicia Grullón's socially-engaged work over 15+ years.
The exhibition opens with a public reception on February 6, followed by open gallery hours on Fridays from 3 pm –  6 pm, or by appointment. 
Grullón describes her performances, both live or for photography or video, as "critiques of the politics of presence – an argument for the inclusion of disenfranchised communities in political and social spheres." By inserting her own body in spaces "that have historically not been meant for [her] or designed so [she has] little control over how [she is] represented in them," Grullón aims to disrupt mainstream historical and cultural narratives.  This includes collecting and performing the stories of individuals whose voices might otherwise be absent. Her interventions have included public spaces, cultural and academic institutions, the dominant history of the United States, government policy, environmentalism, feminism, the United Nations, and the mass media.  
In the tradition of deconstructionist philosophy, Grullón's work challenges traditional binaries between past and present, and presence and its typical opposite, "absence." In her photographs, "what is alluded to within the frame is largely informed by what is not in the frame."  In addition to evoking missing narratives from past, current, and future events, the work selected for this exhibition focuses on Grullón's use of costumes, props and other methods of obscuring her own identity (leading to the absence of a uniform artist figure throughout the work), sometimes to augment the voices of others. In her essay "The Missing Body: Performance in the Absence of the Artist" Cindy Baker argues that through this type of physical obfuscation, "risk, transgression, and a false illusion of distance are taken on by both artist and audience member, expanding a capacity for intimacy between artist/art and audience that few artworks can." Through inhabiting a world of her own creation, Grullon also subverts a traditional European, male gaze. 
In keeping with OSH's mission to make local history relevant, Presence is comprised mainly of works rooted in Grullón's native New York City and that address such topics as gentrification, immigration and community preservation. Several works on view were  inspired by OSH itself and its Dutch Colonial and Revolutionary War past. 
Presence is the first in a series of four 2020 OSH exhibitions exploring how contemporary artists encourage participation and civic engagement.  
Closing Reception/Public Programs
On March 26 from 7-9 p.m., we invite the public to view Storytelling, a performance for video in which Grullon re-enacts stories as they were told to her by seniors at the Jackie Robinson Senior Center in Harlem. A Q&A session with the artist and curator to follow. Additional public programs may be added at a later date- check the OSH website or newsletter for more information.  

Presence is made possible by the New York State Council on the Arts with the support of Governor Andrew M. Cuomo and the New York State Legislature, and the New York City Department of Cultural Affairs