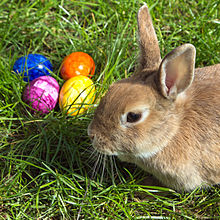 Join us on April 13 with your children (human or canine) for a seasonal photo session with the Easter Bunny!
Photos will be taken on a first come first served basis for $10 by professional photographer
Anna Rathkopf.
Anna will also make photos available on her website for purchase, and you're welcome to snap your own photo as well.
Thanks to our friends at the Park Slope Fifth Avenue BID and Park Slope Parents for supporting this spring fundraiser for the OSH gardens and the park!