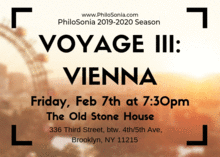 PhiloSonia returns to OSH to continue their "Voyage" season with a musical get away to Vienna on February 7 at 7:30 pm. This travel inspired concert is the third in this five part series.
The program features classics including W. A. Mozart – String Quintet No. 3 in C major, K. 515,
A. Webern – 6 Bagatelles for String Quartet Op. 9, and J. Brahms – String Quintet No. 2 in G Major, Op. 111
Performers include: Stanichka Dimitrova and Regi Papa on violin, Chieh-Fan Jay Yiu and Andrew Gonzalez on viola with Adrian Daurov on cello.
Tickets are available via Brown Paper Tickets.