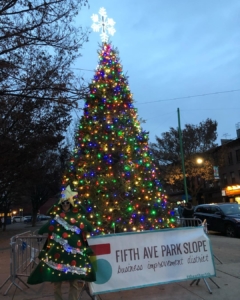 Join us on the corner of 4th Street and 5th Ave for activities beginning at 4pm followed by the tree lighting at 6pm.
Music will be provided by Dr. Alex and Friends, Park Slope locals who are sure to make you smile.
We'll be joined by stilt walkers and steel drummers from Tropical Fete, our friends from Bubbledad, and be greeted by Santa- who will arrive in style in a vintage car!
Treats will be available from Down to Earth Markets, stop by the TD Bank table for hot chocolate and giveaways.