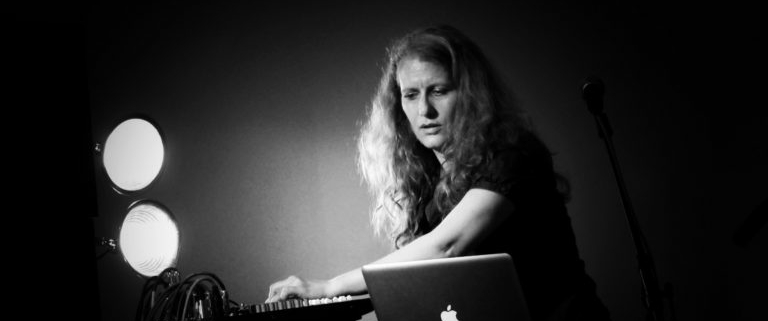 Musical Ecologies returns to in-person events with Brooklyn-based composer/performer Dafna Naphtali.
Audience limited to 25, proof of vaccination required for entry. Please wear a mask.
Tickets here
.
A native New Yorker, Dafna Naphtali is well-known as a vocalist, electronic musician and sound artist. For tonight's program, she will perform works involving live sound processing, voice, algorithmic studies, downsized versions of her multichannel sound and sound-walking pieces, and improvisations, all drawing on work created and developed over 20+ years. With special guest, percussionist Danny Tunick. The evening will begin with a conversation hosted by series curator Dan Joseph.
Founded in 2012, Musical Ecologies is a monthly symposium on music and sound held at the Old Stone House in Park Slope, Brooklyn. Curated and hosted by composer Dan Joseph, each event focuses on a single artist, who presents a recent work or project in the form of a talk or lecture, a multimedia presentation, a performance, or combination thereof. Each presentation is preceded by an extended conversation between the artist and curator.
About the artist:
Dafna Naphtali is a singer/instrumentalist/electronic-musician who composes/performs experimental, interactive electro-acoustic music, drawing on a wide-ranging musical background in jazz, classical, rock and near-eastern music and using her custom Max/MSP programming. She has performed in the US, Canada, Europe, India, Russia and the Middle East. Current projects include "Audio Chandelier", a multi-channel audio work presented in New York, Berlin, and Montreal, "Robotica" (music robots and voice), and her audio augmented reality soundwalks "Walkie Talkie Dream Angles". Dafna's has long-running projects in live sound-processing of voice and acoustic instruments, as her a performable "instrument". The current focus is on duos with acoustic instrumentalists such as pianist Gordon Beeferman, trombonist Jen Baker (Clip Mouth Unit), percussionist Luis Tabuenca, Chuck Bettis, saxophonist/multi-instrumentalist Ras Moshe, saxophonist Edith Lettner, and a longtime duo with Hans Tammen (Buchla, endangered guitar). Fellowships/awards include NY Foundation for the Arts, NY State Council on the Arts, Brooklyn Arts Council, Franklin Furnace, American Composers Forum, Foundation for Contemporary Arts, American Music Center; residencies: Music/OMI, STEIM, and Signal Culture.