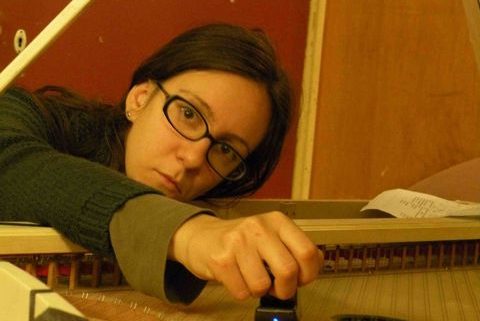 Join us for the next installment of the monthly series Musical Ecologies with composer and performer Teodora Stepančić. The evening will begin with a conversation hosted by series curator Dan Joseph, and a reception will follow.
Musical Ecologies is a monthly symposium on music and sound held every 2nd Thursday (except where noted) at the Old Stone House in Park Slope, Brooklyn. Curated and hosted by composer Dan Joseph, each event typically focuses on a single artist who presents a work or project either in the form of a talk or lecture, a multimedia presentation, a performance, or combination thereof. Each presentation is preceded by a 30-minute conversation with the curator and audience.
About the artist:
In recent years, pianist and composer Teodora Stepančić has been collecting works for the piano that speak in the voice of the outsider, a hushed voice, that does not try to draw attention to itself, that stresses generosity, attentiveness, intimacy, spirit and focus.
Teodora Stepančić is a concert pianist and composer, holding master's degrees in both piano and composition from the Royal Conservatoire in The Netherlands and the University of Arts in Serbia. She has made a life long career as a concert pianist performing in South and North America, Europe and the Middle East. For more than 25 years Stepančić has been playing in different chamber ensembles from duos, trios to larger ensembles, with almost every instrument, voice and choir. Currently she is a pianist of two leading new music ensembles from Europe: Modelo62 and StudioŠest.
In my compositions Stepančić explores different ways of incorporating theatrical and visual elements into music performance, cyclical and game-based musical forms, and developing works in close collaboration with individual performers.