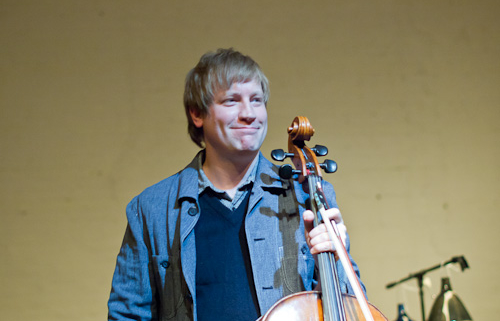 The 2019-20 season of Musical Ecologies continues with composer, performer, producer, and scholar Alex Waterman.
Working in a variety of contexts and mediums, Waterman is perhaps best known as a cellist and performer. In this program, he will present a rare evening of new solo works titled "Towards a Typology of Realities We Coincide With(in)"or "Why don't we see each other any more?" for cello, electronics, and mixed media as well as a selection of new stories and songs. The evening will begin with a conversation hosted by series curator Dan Joseph.
Waterman has created a diverse body of works including sound installations, television operas, film and video works, exhibitions, amateur choral works, radio and film scores, and solo performances as a cellist, electronic musician and storyteller. He currently teaches at Ramapo College of New Jersey.
Founded in 2012, Musical Ecologies is a monthly symposium on music and sound. Curated and hosted by composer Dan Joseph, each event focuses on a single artist. Each presentation is preceded by an extended conversation between the artist and curator.
Advance Tickets are available online here.
Tickets will also be available at the door for $10.