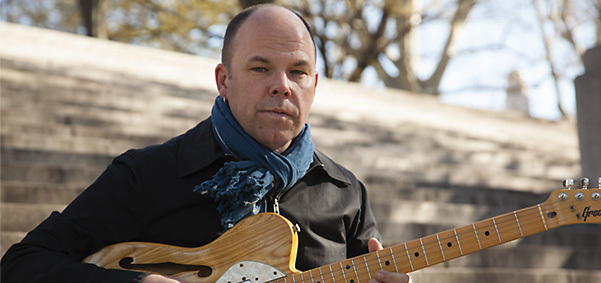 Join us for our rescheduled perforamnce of Musical Ecologies with composer, guitarist, pianist, and vocalist David Grubbs. The evening will begin with a conversation hosted by series curator Dan Joseph, and a reception will follow.
Musical Ecologies is a monthly symposium on music and sound held every 2nd Thursday (except where noted) at the Old Stone House in Park Slope, Brooklyn. Curated and hosted by composer Dan Joseph, each event typically focuses on a single artist who presents a work or project either in the form of a talk or lecture, a multimedia presentation, a performance, or combination thereof. Each presentation is preceded by a 30-minute conversation with the curator and audience.
About the artist:
David Grubbs has appeared on more than 150 commercially released recordings, including 13 solo albums, the most recent of which is Prismrose (Blue Chopsticks, 2016). He is the author of Records Ruin the Landscape: John Cage, the Sixties, and Sound Recording (Duke University Press, 2014). Grubbs was a founding member of the group Gastr del Sol and has appeared on recordings by Tony Conrad, Pauline Oliveros, Matmos, Will Oldham, the Red Krayola and many others. His ongoing collaborations include projects with visual artists Anthony McCall and Angela Bulloch as well as with writers Susan Howe and Rick Moody. Grubbs is a grant recipient in music/sound from the Foundation for Contemporary Arts and director of the Blue Chopsticks record label.
In addition, Grubbs is an Associate Professor in the Conservatory of Music at Brooklyn College, CUNY. He teaches in Brooklyn College's MFA program in Performance and Interactive Media Arts (PIMA) and Brooklyn College's MFA program in Creative Writing, and is a member of the faculty of the Brooklyn College Center for Computer Music (BC-CCM).