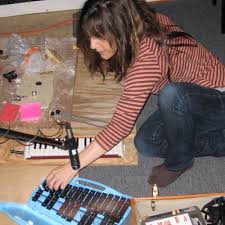 Join us for the next installment of the monthly series Musical Ecologies with sound artist, composer and electroacoustic musician Andrea Parkins. A participant of sound art/experimental music communities worldwide, she is known for her pioneering gestural/textural approach on her electronically-processed accordion & virtual instruments. Described as a "sound-ist," of "protean," talent by critic Steve Smith, her laptop electronics, amplified objects & Fender-amped accordion create fields of lush harmonics, concretized disruption & sculpted electronic feedback. The evening will begin with a conversation hosted by series curator Dan Joseph, and a reception will follow.
Musical Ecologies is a monthly symposium on music and sound held every 2nd Thursday (except where noted) at the Old Stone House in Park Slope, Brooklyn. Curated and hosted by composer Dan Joseph, each event typically focuses on a single artist who presents a work or project either in the form of a talk or lecture, a multimedia presentation, a performance, or combination thereof. Each presentation is preceded by a 30-minute conversation with the curator and audience.
About the artist:
New York-based Andrea Parkins creates multi-diffusion sound installations, and composes electroacoustic & electronic music pieces, & live scores for dance, video & intermedia performance. Her work has been presented at the Whitney Museum, The Kitchen, Experimental Intermedia, 1st International Sound Art festival, Mexico City; Museet Samtidskunst, Roskilde; q-02, Brussels; NEXT, Bratislava; Cyberfest, St. Petersburg, & others. She records/performs as a solo artist & with artists such as Stephen Vitiello, David Watson, Nels Cline, & many more. Her primary project is a series of interactive performance works inspired by Rube Goldberg's circuitous machines. Parkins' work has been published by Important Records, Atavistic, & Creative Sources. & has received support from American Composers Forum, NYSCA, French-American Cultural Exchange, Q-02 Workspace for Experimental Music & Sound Art, Media Arts Assistance Fund, Meet the Composer, Harvestworks, & Frei und Hanseastadt Hamburg Kulturbehoerde.