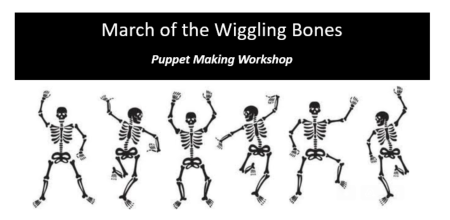 On October 21st The Old Stone House and Park Slope Parents invite the neighborhood to a one day puppet workshop to build and parade a motley crew of skeleton puppets. This project, for ages 6 and up, will help you create a puppet 6 feet tall or taller and teach you how to make it dance around Washington Park before you take it home for your own Halloween celebrations. We hope that you will bring your puppet to the Children's Halloween Parade on October 31st!
Led by professional puppeteer and long time collaborator for local Halloween events, Theresa Linnihan returns to lead this workshop which includes printing, painting and  assembling a set of bones that can only be described as lively and fun!
Details:
October 21st, 2023
There are two workshop times to choose from:
11:00am – 1:00pm
2:00pm – 4:00pm

At 4pm we'll have a parade of skeletons!
Cost: $10 per family for supplies–only register once per family. (Contact us if you'd like to make more than one puppet).
Limited to 13 families per time, so sign up soon!
Skeleton Jokes:
–What was the skeleton doing at the hockey game?    Driving the zam-boney.
–Why didn't the skeleton laugh at the joke?    Because he didn't have a funny bone.
–Who is the most famous French skeleton?    Napolean Bone-aparte.
–Why did the skeleton start a fight?    Because he had a bone to pick.