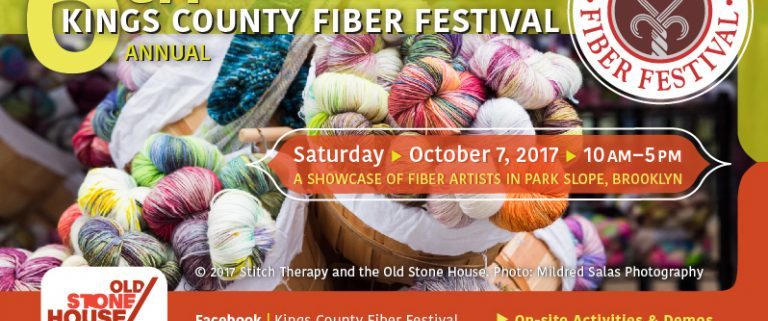 Join us for this year's annual Kings County Fiber Festival! There will be yarn for sale, workshops to participate in, and a great day of community gathering.
The Kings County Fiber Festival embraces both fiber artists and the resource providers that make their work possible. Hosted on the grounds of the Old Stone House of Brooklyn – originally built in 1699 as the Vechte family farm – the Kings County Fiber Festival includes crocheters, dyers, felters, knitters, quilters, spinners, and weavers, as well as artists creating design works that incorporate fiber as an integral material. Our goal is to raise awareness of both historic and contemporary approaches to the fiber arts.
Schedule
10 am – 5 pm
11 am 
Arm Knitting
The new craze is Arm Knitting and we love it. Join us for our free work shop– all you need are your two arms and some chunky yarn. Arm knitting creates a big and loopy fabric for your autumn fashion accessories. Mix multiple stands of your favorite colors together to create a unique palette of colors.
Instructor: Sara Stopek
Yarn Sponsor: 
Visit  www.lionbrandyarnstudio.com to learn about Lion Brand Yarn Studio group and private classes.
Starting at 1 pm
Spin City Fleece to Shawl Demo
The Spin City fleece-to-shawl team is practicing for a competition to be held this fall at the New York State Sheep and Wool Festival, Rhinebeck, NY, Sunday.  Our team lives or works in and around New York City.  We share a love for fiber and textiles.  In our free time, we meet regularly and prepare fiber, spin yarn, knit, crochet or weave.  We will card the washed fleece by hand, spin it on our wheels, and weave it on the loom.  The loom has been threaded in advance with handspun warp.  The entire process, from washed fleece to woven 18" x 72" shawl, will be completed in three hours. We hope…
All Day
Activities throughout the day will also include music, hand spinning/dyeing, how to raise and care for animals, and how to care for raw denim, and more….