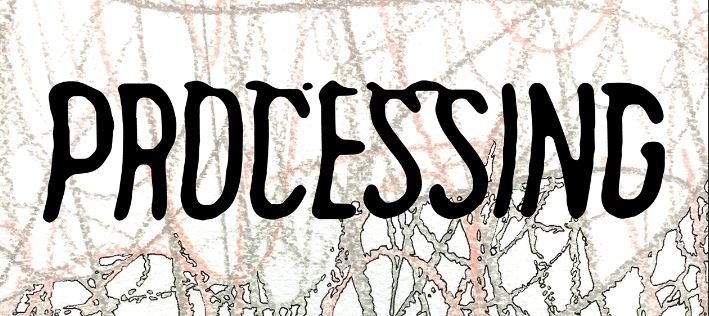 A Gowanus Swim Society exhibition at the Old Stone House & Washington Park
Exhibition Opening: Saturday, October 20, 2018, 7-9pm
Exhibition Dates: October 20, 2018-February 15, 2019
Hours: Fridays, 3-6pm or by appointment; call 718-768-3195
Participating Artists: Jessica Dalrymple, John Fisk, Natalie Fisk, Abigail Groff Hernandez, Kristen Haskell, Melissa Johnson, Suzy Kopf, Mary Negro
Katherine Gressel, Curator
"Processing" is defined as "a series of changes taking place in a definite manner," including the "systematic organization, treatment or preparation of materials." The artists in Processing all manipulate art materials through intentional, systematic procedures that sometimes incorporate chance. The resulting work teeters between representation and abstraction – teasing recognizable forms out of abstract ones or abstracting recognizable elements through stripping down or layering/obscuring.  Specific works were selected for the exhibition that can trace the evolution of most artists' work processes.
Psychologists refer to "processing trauma" as transforming painful emotions into constructive meaning.   Many of these artists view their practice as a way to elucidate or overcome specific personal or societal obsessions, fears, or anxieties—such that the manipulation of art materials becomes a therapeutic process.
The opening of Processing coincides with Gowanus Open Studios (GOS) an annual weekend-long event in which local artists invite the public into their studios. By continuing to participate in GOS each year, OSH hopes to both support local artists and call attention to their increased displacement from this community as a result of gentrification. Once all based out of a no longer extant central Gowanus location, the Gowanus Swim Society artists are now dispersed across New York City or other cities. These shifts have also impacted their individual and collective work processes.
Artwork
Kristen Haskell describes their work process as "a cycle of creating, narrating, abstracting, studying, organizing, and disorganizing." Their recent work centers around common fears, both rational and irrational, from spiders to losing one's teeth. It is created in two stages: the wet energy stage, in which Haskell "lets out their aggression quickly" with Sumi Ink and Fluid Acrylic; and the meditative linear stage, where the artist often creates "new characters" from the forms, patterns, and lines within the more spontaneous shapes created during the first stage.
Free-form ink blots are also the starting point for John Fisk's ongoing "Inklins" series. He uses an eyedropper to create splatters on watercolor paper with organic lines and naturally-occurring  shading. He then turns each one into a macabre creature, inspired by psychology of Rorschach tests, horror entertainment, and cartoon animation.
Mary Negro and Natalie Fisk by contrast begin with recognizable symbols and texts which they alter and conceal to the point of being barely recognizable. Mary Negro uses colored pencil to layer streams of handwritten, stream-of-consciousness text across large paper. The sentences are then contoured with ink, further disabling the viewer's ability to read the text, which collapses into a thick web of gestural marks. Negro's journaling method helps her process difficult personal and political events, "visualizing a sense of overwhelm, frustration, or tension, while simultaneously evoking contemporary issues related to censorship, transparency, memory, and record-keeping."
Natalie Fisk provides a window into her Mexican-American and female identities through the negative and positive spaces created in hand- cut and painted papel picado, often collaged upon other domestic patterns as well as feminist comics. Fisk aims to "push and pull her viewer through various degrees of clarification, capturing the space between identified subject and affable uncertainty."
Abigail Groff Hernandez's latest work addresses the physical behaviors that mark her father's descent into dementia, such as folding cloth and tearing paper.  The obsessive detail in her depictions of crumpled metallic paper renders their subject barely recognizable and invites a range of interpretations. "At their most basic, the drawings are depicting the breakdown of shapes created by folding and crumpling…in practice, they are an observational, rhythmic and methodical way to find mindfulness and order amidst heartbreaking, hopeless circumstances."
Jessica Dalrymple and Suzy Kopf's more representational work deeply investigates and re-frames our natural and built environment. Jessica Dalrymple's Native/Non Native and NYC Natural paintings exhaustively catalogue and advocate for plant and animal species found in cities. After accumulating photos and sketches while immersed in the landscape, Dalrymple fuses them together into compositions that often obscure traditional perspectives and juxtapose painterly and photo-realistic elements to "express harmonies between nature and the city."
Suzy Kopf is interested in the "American propensity towards sameness, which stands in direct contrast with our supposed fierce need to be unique." Also working from both her photographs and memory, Kopf often strips her urbanscapes of detail to focus on their most iconic shapes, colors and symbols. Her paintings in Processing document Puerto Rico's Levittown, which she visited in March 2017 before the island was devastated by Hurricane Maria. This planned housing community teleported midcentury design while being peppered with current automobiles and references to contemporary life. The work addresses such personal and societal tensions as, "What does it mean to be at home in the beautiful and the banal? What does prosperity for all mean in a time when we know we can't all have it?"
Melissa Johnson's music video The Look suggests the potential of breaking with fashion and performance conventions to express a rich inner world. Through a series of fantasy dressing room scenes in a fantasy mall, lead character Melody Henson finds empowerment through her unique style. With song and movement the protagonist communicates her belief in "self-expression, sisterhood, and the power of diversity."
About Gowanus Swim Society
Gowanus Swim Society is a select group of mostly Brooklyn-based artists who meet regularly, exhibit often and provide a forum for sharing information and artist resources. The artists function as a collective and hold monthly meetings during which they work together to accomplish common goals, hold one another accountable for personal progress through group crits and acquire new skills from one another. They also host public social events and art exhibitions of their work throughout the year. They are always eager to collaborate with other artists and organizations to work towards common goals.

About The Curator
Katherine Gressel, the Old Stone House & Washington Park's Contemporary Art Curator, is a New York‐based curator, artist, and writer focused on site‐specific art. She earned her BA in art from Yale and MA in arts administration from Columbia. Katherine's previous exhibits dealing with such topics as income inequality, urban agriculture, and parks have been recognized by the New York Times, Time Out New York, Hyperallergic, News 12 Brooklyn, and DNAInfo. In addition to organizing ten major exhibitions to date at the Old Stone House, Katherine has curated for FIGMENT, No Longer Empty, and Brooklyn Historical Society, and was the 2016 NARS Foundation emerging curator.  She was selected for the 2015 Independent Curators International (ICI) Curatorial Intensive in New Orleans. Katherine has written and presented on public and community art issues for Createquity, Americans for the Arts, and Public Art Dialogue, among others. Katherine also served as Programs Manager at Smack Mellon Gallery from 2010-2014, and has worked and consulted for diverse nonprofits in the areas of arts education, project management, and development.

Funding for Processing  is made possible, in part, by the Shelley & Donald Rubin Foundation and the New York City Department of Cultural Affairs.