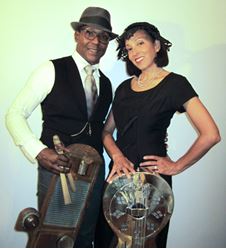 The Piedmont Bluz acoustic duo — Valerie Turner: guitar, spoons, banjo, vocals, and Ben Turner: washboard, bones, harmonica — is dedicated to the preservation of country clues and the Piedmont style. Their mission is to help keep this rural, East Coast tradition alive by educating audiences about this unique aspect of African American culture through musical entertainment. The husband and wife duo are much loved wherever they go and feel that "there are stories to tell, people to remember, and things that must be said" so, in addition to tickling your ears with delightful music, they weave a bit of history into the presentation of each song.
In addition to performing at domestic venues such as the American Folk Art Museum, ArtsWestchester, Davis & Elkins College, Archie Edwards Blues Heritage Foundation, Jalopy Theatre, and Towne Crier Café – Piedmont Bluz has also performed in Monaghan, Berlin, Sea of Galilee, Tel Aviv, Jerusalem, and Madrid.
The duo has been featured in numerous festivals including the Sugar Maple Festival, Harvest Time Blues Festival, Jacob's Ladder Festival, Tel Aviv Blues Festival, Clearwater Revival, and Brooklyn Folk Festival to name a few.
Both have taught workshops at the Archie Edwards Blues Heritage Foundation, and Valerie has additionally taught workshops at Blues & Swing Week in Elkins, WV and at the Acoustic Blues Workshop in Port Townsend, WA.
They have also been guests on Horses Sing None Of It, The Blues Break with Big Joe Fitz, and Wes Houston Presents.
Space is limited so plan ahead!
Tickets: $10  Advance tickets available at Brown Paper Tickets