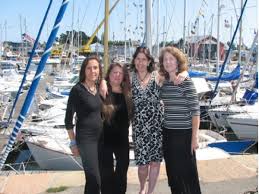 On Sunday, May 7th the Good Coffeehouse is pleased to present the next installment of their monthly music series with The Johnson Girls. The Johnson Girls is an energetic all-woman a cappella ensemble, performing traditional and contemporary music with an emphasis on songs of the sea and shore. With a sound that has been called "exciting," "haunting," and "uplifting," the Johnson Girls give performances that bring audiences to their feet wherever they go.
About The Johnson Girls:
Each of The Johnson Girls brings a specialty and style to the ensemble.  Their extensive repertoire includes songs with an Afro-Caribbean influence, of the inland waterways, of fishing, mining, Irish, Anglo-American, Italian, French, and Canadian ballads and work songs, and much more.  The Johnson Girls bring a unique interpretation to their repertoire while preserving the traditional roots of their music. Widely acclaimed for their powerhouse performances of rousing work songs, haunting ballads and laments, and hair-raising harmonies, The Johnson Girls have performed at major festivals, clubs, coffeehouses, and more across the United States, Canada, the UK, Ireland, and Europe, have performed live on Oscar Brand's radio show, France Bleu radio and appeared on French TV.