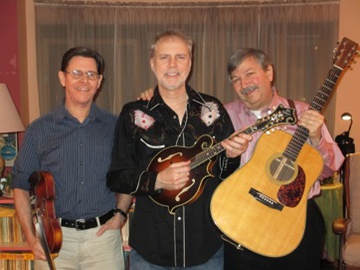 On Sunday, March 12th the Good Coffeehouse is pleased to present the next installment of their monthly music series with Hell's Kitchen Country, a band that features some of the best three-part bluegrass harmony heard in these parts. Comprised of three exceptionally musically gifted bluegrass and old time country veterans Gene Yellin (guitar), Bill Christophersen (fiddle) and Mark Farrell (mandolin), the band derives its repertoire from the lesser known material of bluegrass pioneers such as the Sauceman Brothers as well as the Stanley Brothers and Jimmy Martin. This is a musical event you will not want to miss!
About Hell's Kitchen Country:
Native New Yorkers Gene Yellin, Bill Christophersen, and Mark Farrell know how to sing and play bluegrass in the authentic southern style. They have been a fixture on the New York bluegrass scene for decades, and in their travels have amassed a repertoire sure to delight even the most rabid bluegrass and old time music fans. These talented multi-instrumentalists play the full array of bluegrass instruments including guitar, banjo, fiddle, mandolin and bass.