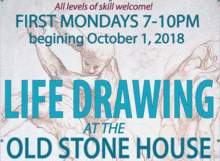 Join us for a three hour figure drawing session with a professional model.
All skill levels are welcome, this is a judgement free opportunity to practice and develop your skills.
Bring your favorite tools, no oils, acrylics, or sprays please!
Tickets are $12 in advance at Brown Paper Tickets, $15 at the door, and $10 for students with ID.