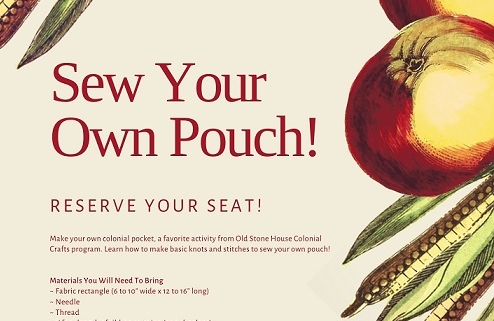 We're joining our Historic House Trust sister houses to present the Explore at Home series- online courses for kids 8-12 to explore science, history, cooking, and crafts!
The Old Stone House is hosting the first session, Sew Your Own Pouch.
Make your own colonial pocket, a favorite activity from Old Stone House Colonial Crafts program. Learn how to make basic knots and stitches to sew your own pouch.
Materials You Will Need To Bring
~ Fabric rectangle (6 to 10" wide x 12 to 16" long)
~ Needle
~ Thread
~ 1' foot length of ribbon or twine (or a shoelace)
Cocer, es una de las actividades favoritas del programa 'Colonial Crafts' de Old Stone House. Aprenda a hacer nudos y puntadas básicos para ¡coser tu propia cartera!
Lista De Materiales Que Necesitarás Traer
~ Rectángulo de tela (6″a 10″ pulgadas de ancho x 12″ a 16″ pulgadas de largo)
~ Una aguja
~ Hilo
~ Cinta o cordel (o un cordón de zapato), de 1′ pie de longitud
Register for our program here.
Take a look at all the programs in the series, hosted by Dyckman Farmhouse Museum, Historic Richmond Town, Wyckoff House Museum, Lewis Latimer House Museum, and Morris Jumel Mansion.