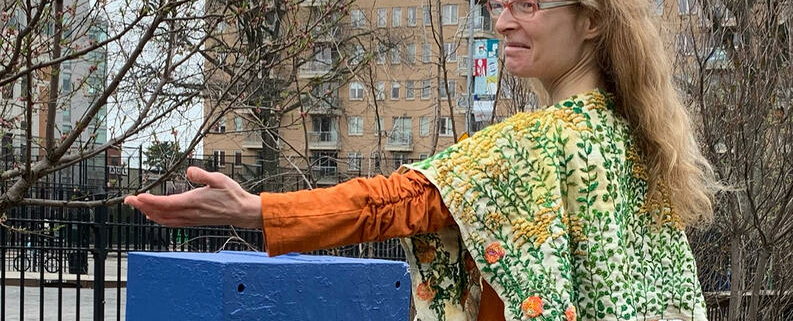 PLEASE NOTE: this event has been moved to its rain date: Sunday, October 22nd at 1:00pm
Members of Stitchcraft share their wearable botanical art.
From lead artist Iviva Olenick:
"We'll slowly walk the grounds and pay homage to local native and non-native plants with health, food and dye traditions central to women's histories. This event is presented in conjunction with the opening weekend of Picturing the Constitution, a contemporary art exhibit at the Old Stone House curated by Katherine Gressel, featuring artists' responses to the U.S. Constitution.
Ecofeminist Fashion Walk is an outgrowth of Stitchcraft: threading reproductive and climate health justice, in response to the Dobbs decision, which overturned national abortion access, and ongoing ravages of climate change.
Stitchcraft revives oral narratives, herbalism, plant-based and "women's" handcraft traditions as tools for community and self-care, resistance and survival. Activities include planting a Reproductive Health Garden at OSH & Washington Park with hormone regulating plants in collaboration with Director of Gardens, Sam Lewis; leading virtual and in-person embroidery circles; leading plant medicine, food and dye tours with herbalist Danielle Moore; ongoing study of herbalism, native plants and horticulture; and creation of artist books sharing plant traditions. Activities are sponsored in part by the Greater New York Arts Development Fund of the NYC Department of Cultural Affairs, administered by Brooklyn Arts Council (BAC), and through private donations.
Find out more about Stitchcraft and make a tax-deductible donation here.
The Ecofeminist Fashion Walk expands Stitchcraft to create a public performance, call for justice, and walking exhibition. The walk features participants wearing textiles expressing visions for a matriarchal future where people with wombs and the natural world are revered rather than politically weaponized. Textiles include assemblage, natural dyeing, embroidery, up-cycling, mending, appliqué, quilting and more."
Confirmed participants include:
Yasmeen Abdallah
Taryn Matusik
Traci Molloy
Tiffany Navarro
Tash Nikol
Iviva Olenick
Claudia Sohrens
Priscilla Stadler
Ethany Uttech