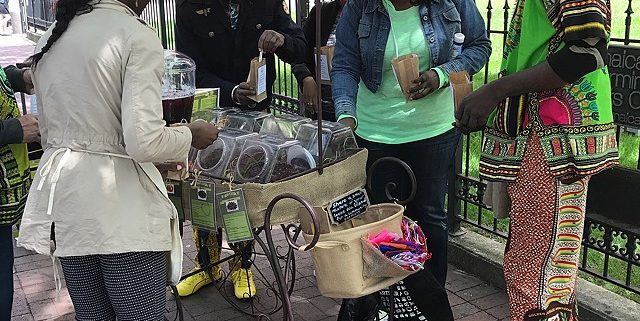 Sample and mix your own loose herbal tea blends at this community engagement initiative designed by Queens based artist Shervone Neckles. The Creative Wellness Gathering Station channels the knowledge and wisdom of the local community to recall remedies and natural methods folks use to heal and cure everyday ailments.
Through interactive demonstrations exploring the origin, multi-purpose and mixing techniques of the selected herbs displayed and offered, station participants will be able to identify at least one applicable method and create their own herbal mix to support their individual wellness needs.
To mark and commemorate the exchange, participants will be invited to offer a small portion of their personal herbal blends made during the interactive demonstrations to be used in the creation of a community garment. This wearable community garment will function as the physical manifestation of the self-care and nurturing each participant experienced during the exchange.
ARTIST BIO
Shervone Neckles is an interdisciplinary artist, educator and community worker based in Queens, New York. Neckles draws inspiration from concepts and practices rooted in her Afro-Caribbean traditions. Her work engages in social experiments that consider the commonalities, differences, contradictions, and the many possibilities of cooperative learning and civic responsibility. Her work can be seen at http://shervoneneckles.com/
**Meet at the Washington Park fence, 5th avenue between 3rd and 4th streets.**
** This event is presented in conjunction with our current exhibition "Being Well: In Search of Utopia?" on view through October 8, of artists' visions for health and wellness. The exhibition will be open during this event, from 11am-4pm on 9/24, and this is one of the last chances to see it!**