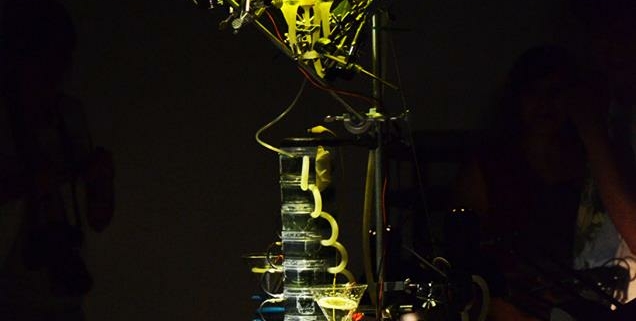 In partnership with BioBAT Art Space, the Old Stone House will host a series of bilingual listening sessions created by some of the artists that are part of Common Frequencies, a new contemporary art exhibition opening in May at the BioBAT Art Space.
The exhibition, curated by Elisa Gutiérrez, features cross-disciplinary Mexican artists Lorena Mal, Marcela Armas, Gilberto Esparza, Tanai Candiani, and Interspecifics whose work meets at the intersection of art and science.  
Join us on February 20 when will be connecting with Gilberto Esparza @gilbertoesparzaglez on Zoom to engage in a listening session with BioSoNot, a hybrid bio-sound instrument that translates biological activity into sound as it cleans contaminated water samples.
During the performance, BioSoNot 1.2 will generate music and noise from the biological activity of living microorganisms inhabiting a Yucatan Cenote, and other rivers in Mexico.
The 30 minute listening session will be pre-recorded and will be followed by a live Q&A with the artist, who will be connecting from San Miguel de Allende, México.
This program is free, please make sure to register on Zoom.
En colaboración con BioBAT Art Space, Old Stone House albergará una serie de sesiones de escucha creadas por algunos de los artistas que forman parte de Common Frequencies. El programa será gratuito y abierto al público.
Common Frequencies es un proyecto binacional que se presentará en BioBAT Art Space el 1 de mayo, curado por Elisa Gutiérrez Eriksen, con obras de Lorena Mal, Marcela Armas, Tania Candiani, Gilberto Esparza e Interspecifics.
The Old Stone House en Brooklyn albergará una sesión de escucha donde nos conectaremos de forma remota con Gilberto Esparza para participar en una sesión de escucha con BioSoNot, un instrumento híbrido de bio-sonido que traduce la actividad biológica en sonido mientras limpia muestras de agua contaminada. 
Durante la actuación, BioSoNot 1.2 generará música y ruido a partir de la actividad biológica de microorganismos vivos que habitan un Cenote de Yucatán y otros ríos de México.
La sesión de escucha de 30 minutos será pregrabada y será seguida por una sesión de preguntas y respuestas en vivo con el artista, quien se conectará desde San Miguel de Allende, México