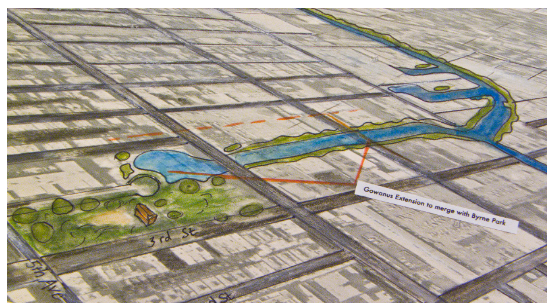 This is an open call for submissions for artwork to be considered for our Brooklyn Utopias: 2020 exhibition curated by Katherine Gressel.
Submission Deadline: March 9, 2020
Exhibition Dates: August 20 – October 18, 2020
ABOUT THE EXHIBITION –
Utopia: An ideal place or state, usually imaginary; any visionary system of political, social, environmental, or moral perfection
What would characterize a Brooklyn Utopia?
How has Brooklyn changed in the past decade (for the better or worse)?
What is the role of artists in creating a more ideal Brooklyn?
Brooklyn Utopias: 2020 will address Brooklyn's past, present and future by inviting artists to consider differing visions of an ideal Brooklyn, or imagine their own. It corresponds with the 10-year anniversary of the original Brooklyn Utopias? exhibitions series developed by curator Katherine Gressel and presented at both OSH and Brooklyn Historical Society in 2009-2010 (see more info below). At a time of reflection on the past decade, OSH invites artists to explore how Brooklyn has continued to change over the past 10 years, and if/how it can serve as a model for urban and American living on a national scale, especially in the months leading up to the 2020 election. Brooklyn Utopias also addresses the possibilities (or limitations) of art in creating a better world. We encourage past Brooklyn Utopias artists to revisit their 2009 projects or propose new ones, and welcome submissions from artists based in or exploring issues in our  surrounding Gowanus/Park Slope/Sunset Park area, as well as a range of diverse Brooklyn neighborhoods. In addition to an August opening reception, we plan to host a closing event during the annual Gowanus Open Studios, October 15, 16 or 17, focused on the future of the arts in this neighborhood.

As with all our exhibitions, we also encourage projects that engage with our unique history and space. OSH is a reconstructed Dutch colonial farmhouse located in Park Slope's Washington Park/J.J. Byrne Playground. The playground and house restoration were first developed by Robert Moses in the 1930s, but the land surrounding the house made history long before then as the site of the 1776 Revolutionary War Battle of Brooklyn, and as a 19th Century Brooklyn Dodgers practice field. Today, OSH hosts history and environmental education programs as well as cultural and family events. This exhibition will be featured in our annual Battle Week events calendar celebrating the Battle of Brooklyn's anniversary. 
BACKGROUND ON BROOKLYN UTOPIAS – 
From colonial religious settlements to western frontiers to urban renewal efforts to planned suburban enclaves, the United States has historically been obsessed with utopian communities. Brooklyn is no exception to this, with its history as a home for Dutch colonial and subsequent racially and culturally diverse settlers, 19th Century social reformers like Alfred P. White, influential artists and writers from Walt Whitman to Spike Lee; and distinctive neighborhoods from Coney Island to Brooklyn Heights.
The original Brooklyn Utopias? series was inspired by Brooklyn's resurging popularity in the first decade of the 21st Century, and often competing and controversial attempts to re-plan and rebuild the borough––from luxury high rises to new sports and entertainment complexes to affordable housing, bike shares, and "green" architecture initiatives. 
The 2010s saw many of these nascent developments come to fruition as Brooklyn "became a globally recognized brand" but also increasingly unaffordable and segregated, according to Curbed, with small businesses and artist studios shuttering, and formerly working class and immigrant neighborhoods like Williamsburg "transformed from quirky hipster locales into havens accessible only to the very wealthy." New parks, ferries and commercial/residential developments have reinvented and increased access to Brooklyn's waterfront, while reckoning with its disappearing industrial landmarks and a growing climate threat made tangible by 2012's Hurricane Sandy. 
Brooklyn has also continued to nurture grassroots organizations like community arts centers, urban farms and advocacy groups. The blog Brooklyn Based argues that during the later 2010s, Brooklyn went from "hipster to woke" especially after the 2016 presidential election and heightened awareness of racism, anti-seminism, and hate crimes. Brooklyn emerged as an incubator for political resistance groups like GetOrganizedBK and Indivisible Nation who have also worked towards passing progressive local policies.  
Brooklyn Utopias: 2020 asks, how effective are all these efforts to continue to develop Brooklyn (and, arguably, influence the rest of the world)? Who benefits and who is left behind?  What additional innovations are possible? And how should artists continue to both responsibly shape the growth of the borough and envision a more hopeful future in the face of recent economic, social and environmental crises?
See the blog https://brooklynutopias.wordpress.com/ for information about subsequent Brooklyn Utopias shows presented at OSH from 2012-2015, addressing the sub-topics of urban farming, parks/public space, transportation, and income inequality. OSH also hosted a Being Well: In Search of Utopia? exhibition on health & wellness in 2017. All these potential themes could be revisited in our 2020 show. 
Brooklyn Utopias: 2020 is made possible by the New York State Council on the Arts with the support of Governor Andrew M. Cuomo and the New York State Legislature, and the New York City Department of Cultural Affairs. Image credit: Rebecca Hackemann.
SUBMISSION REQUIREMENTS – 
Projects in all media are welcome (though see "exhibit specifications" section below for specific requirements). As in the past, we are also interested in commissioning public art for the surrounding Washington Park, and artwork created with the participation of local community groups or schools–please contact OSH in advance if you'd like us to help try to match you with a community partner organization.  We are also open to temporary indoor or outdoor event proposals that engage with this theme, from both artists and community organizations. Artists are especially encouraged to propose community workshops that complement artwork on view in the gallery (as opposed to stand-alone events). Due to OSH's busy event calendar, public programs will be arranged at mutually convenient times, based on OSH's availability. 
TO SUBMIT – 
Please email the following to Katherine Gressel, curator at  katherinegressel@gmail.com, by 11:59 PST on March 1, 2020 with the email subject line with "Brooklyn Utopias Submission" 
Brief description (approx. 1 paragraph or 500 words) of proposed project–please address how it engages the exhibition theme!  
** If you are a returning artist proposing an update to a previous Brooklyn Utopias project, please address how it will be modified to reflect more recent events. 
Up to 10 images/videos of the proposed project and/or related work, or send links to images/videos online. Sketches of proposed new work are ok. Please attach a work sample script explaining the content of the work samples, or link to captions online. NOTE: if you are proposing a public program/performance, please share info on any related programs/events you have previously produced. 
Funding request (if any): OSH is dedicated to offering at minimum a $150 honorarium for all participating artists. Additional funds may be available, especially to cover materials/transport costs for new and site specific work. OSH can also sometimes assist artists in applying for their own grants, or with crowdfunding.
Attach or link to artist resume or bio
** Artists/organizations are encouraged to contact the curator in advance to discuss ideas or to arrange a studio visit, and to visit the OSH exhibition space (see below) **
EXHIBIT SPECIFICATIONS – 
Artists are highly encouraged to view the OSH floor plan, and visit http://theoldstonehouse.org/exhibitions/ and http://brooklynutopias.wordpress.com to see past exhibition images. You are welcome to contact Kim Maier, OSH Executive Director, directly at kmaier@theoldstonehouse.org and Katherine Gressel, curator at katherinegressel@gmail.com to make an appointment to visit the house or discuss specific installation needs.
Works will primarily be on display in OSH's 2

nd

Floor Great Room gallery, though there may be potential for site-specific work in the park outside, gardens, stairwell, or lobby.  

The Great Room is a multi-purpose space that will also be used for a variety of public and private events during the show's run—therefore, work must be securely hung on walls–either from masonry screws, heavy duty tape (depending on weight) or a picture rail–or otherwise fastened to a permanent surface in the room. There is little space for 3-dimensional work indoors, though small three- dimensional installations are sometimes possible, i.e. on window sills, small shelves,  the stairway landing, small pedestals, or other furniture. The concrete walls do not accommodate small nails or pins. 

We have two small and one large monitors available for video work, and a wi-fi enabled ipad for web-based displays. With some exceptions, artists are responsible for obtaining their own AV equipment. Note: we can only show a minimal amount of video work in each exhibition, given the multi-purpose nature of our space. Projection-based video is normally not feasible in our gallery, but please contact the curator if you'd like to inquire about possible exceptions to this.




Outdoor work will be exhibited within 100 feet of the Old Stone House, and must be in keeping with Parks Department specifications for public art. Such projects should be discussed in advance with OSH Executive Director Kim Maier. Please note outdoor projects are vulnerable to both harsh weather conditions, and theft or vandalism as the park cannot provide 24-hour security. 

Note: OSH is unable to insure the artwork 

** We are also exploring additional Brooklyn venues as potential satellite sites for site-specific art; please contact us if you are a representative of a venue in a different neighborhood interested in hosting Brooklyn Utopias art.