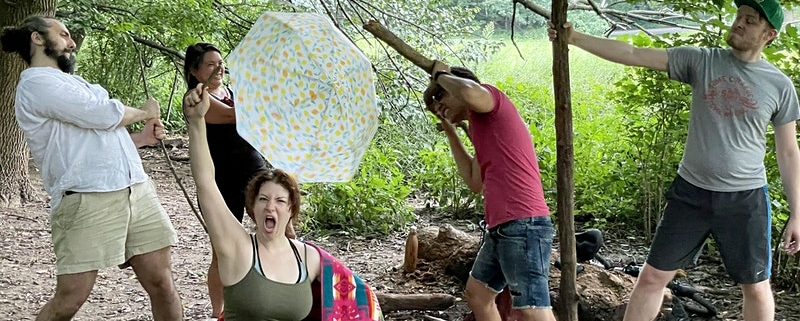 Enliven your time by playing Games! Join Book Club Theater on the Patio of OSH for two hours of creative quirk and collaborative mayhem.
Ever wanted to stage a live music video? Re-enact the boulder chase from Indiana Jones? Figure out how some 17th century astronomers thought a bicycle could take you to the moon? We'll teach you the tools and provide the forum to play with us as we generate new material together: scenes, performance art "happenings," songs, dances, and more.
Our Games celebrate risk and failure — it's all Just for Fun. You don't have to be an expert in performance or a "creative" by trade. In fact: we are all capable of inventing something entertaining or profound in very little time, if we're properly engaged.
Everyone deserves to have more fun! There's NO experience necessary, apart from the experience of being a curious person.
While these Games sessions are free to the public, post-class donations are greatly appreciated!
These games are participatory and hands-on. Proof of vaccination is required upon arrival. Suitable for humans ages 14 and up.