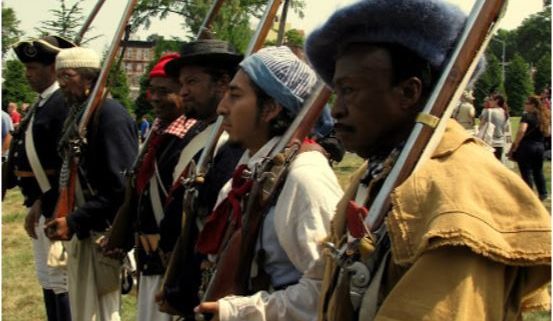 A week plus of events and activities commemorating the opening chapter in America's drive for independence, marking the 242nd Anniversary of the Battle of Brooklyn
Saturday, August 18 – Sunday, August 26
Display of 85 Revolutionary War flags and their history
The Green-Wood Cemetery
5th Avenue at 25th Street, Brooklyn
www.green-wood.com
Sunday, August 19, 11:00 am – Noon
The Evergreens Cemetery
Battle of Brooklyn And Beyond Military History Tour
Bushwick Avenue and Conway Street, Brooklyn
Tickets available on Eventbrite
Sunday, August 19, Noon – 2 pm
Maryland 400 Remembrance Ceremony
Old Stone House & Washington Park
  in partnership with the Michael A. Rawley American Legion Post
(718) 768-3195/www.theoldstonehouse.org
Wednesday, August 22, 7 – 8:30 pm
A Taste of Revolution at The Green-Wood Cemetery
Raise a glass to freedom at a rum and cider talk and tasting.  Music by Charming Disaster.
Tickets: Brown Paper Tickets
Wednesday, August 22, 6 – 8 pm
Gowanus Dredgers Battle Paddle
Paddle with the Dredgers!  Learn the History of Gowanus at the Dredgers 2nd St. dock. We invite Loyalists, Revolutionaries
and folk to join the fun battle voyages.  If you support the King – wear a RED PFD!  www.gowanuscanal.org

Thursday, August 23, 7 – 9 pm
Exhibit Opening – For Which It Stands
A Contemporary Exhibit curated by Katherine Gressel
www.theoldstonehouse.org
Friday, August 24, 8 – 10 pm
Concrete Timbre: 1776 (Future Style)
A glimpse of a future world, distilled down to the skyscraper headquarters of Globe, Inc., located on a man-made island off the coast of Singapore, where American workers plan a rebellion
www.brownpapertickets.com
Saturday, August 25, 10 am sharp
Prison Ships Martyrs Memorial Ceremony
Coordinated by the Society of Old Brooklynites, American Merchant Marine Association, and Navy Armed Guard. Prison Ships Martyrs Monument, Fort Greene Park, Brooklyn
Information: (718) 768-3195.
Saturday, August 25, 2-4 pm
Battle of Brooklyn Neighborhood Walk
Led by Old Stone House Board Member and Hunter College Archaeology Professor William J. Parry. Meet at Grand Army Plaza entrance to Prospect Park, NW corner. $12 per person/$10 OSH members; includes light refreshments.
Wear comfortable shoes.
Information:  (718) 768-3195/info@theoldstonehouse.org.
Advance tickets recommended – available at Brown Paper Tickets
Saturday, August 25, 8 – 10 pm
Concrete Timbre: 1776 (Future Style)
A glimpse of a future world, distilled down to the skyscraper headquarters of Globe, Inc., located on a man-made island off the coast of Singapore, where American workers plan a rebellion.
www.theoldstonehouse.org/www.brownpapertickets.com
Sunday, August 26
Battle of Brooklyn Commemoration at The Green-Wood Cemetery
5th Avenue at 25th Street, Brooklyn
(718) 768-7300 for reservations and more information
10:00 am – Noon, Reservations necessary
Green-Wood historian Jeff Richman and author Barnet Schecter conduct a trolley tour of the cemetery.
Living History Programming with drills, weapon firing, games and historic personalities.
12:30 – 1:15 pm
Re-enactment inside the Main Gate at The Green-Wood Cemetery
1:30 pm Parade to the top of Battle Hill
2:00 pm Memorial Ceremony at Battle Hill
On-Going:
Old Stone House: Witness to War
A Permanent Exhibit about the Battle of Brooklyn
Saturdays and Sundays, 11 am – 4 pm
Hear a wonderful piece on the battle of Brooklyn by Jim O'Grady on WNYC!