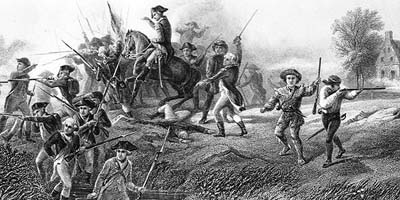 A week plus of events and activities commemorating the opening chapter in America's
drive for independence, marking the 244th Anniversary of the Battle of Brooklyn
August 13-September 17, Thursdays from Noon – 2 pm
Handwriting the Constitution
Join OSH for the first on-line version of Morgan O'Hara's Handwriting Project, and practice concentrated writing with this important document.
Register here.
Wednesday, August 19, 6 – 8 pm
Gowanus Dredgers Battle Paddle
Join the Dredgers for a canoe tour of the famous Battle of Brooklyn escape route
More info here.
Thursday, August 20, 7-9 pm
Exhibit Opening – Brooklyn Utopias 2020
A contemporary art exhibit addressing Brooklyn's past, present and future with artists exploring how Brooklyn can serve as a model for post-pandemic urban living, curated by Katherine Gressel. On view through October 12. More information here.
Saturday, August 22 – Sunday, August 30
Display of 85 Revolutionary War flags and their history
The Green-Wood Cemetery, 5th Avenue at 25th Street, Brooklyn
Learn more here.
Sunday, August 23th, 10:30 am – 1 pm
Battle of Brooklyn Bike Tour
Meet at the Old Stone House/End at Brooklyn Bridge Park, led by Rich Garr.
$30 tickets at Brown Paper Tickets – limited to 12 so reserve soon.
Tuesday, August 25th, 6 pm – 7 pm
History Happy Hour – Defenders of Liberty
Join Green-Wood guide James Henry for an on-line conversation. Register here.
Wednesday, August 26th 5 pm – 6 pm
The Revolutionary War Battle of Brooklyn
An On-line Talk with Barnet Schecter and Jeff Richman.
Register here.
Thursday, August 27th
The Battle of Brooklyn, 6:30 pm
A Virtual Talk with Owen Lourie, Historian, Maryland State Archives. On-line at Baltimore's Pratt Library.
Register here.
The Battle of Brooklyn – A Farce In Two Acts, 8 pm
Was the Revolution a scam? Were the Founding Fathers idiots? This 244 year old propaganda takes the form of
a 20-minute play written by an anonymous British loyalist in 1776 to mock the American defeat in the first battle of the War for Independence.
Commemorate the anniversary of the battle with this live video performance – lovingly abridged, introduced, and directed
by local historian Dylan Yeats. Watch on Facebook Live.
Friday, August 28th, 6:30 pm – 7:30 pm
Medicinal Plants of the Revolution
Join Herbalist Danielle Moore and OSH Director of Gardens Sam Lewis for a tour of the gardens and a hands on workshop focused on our medicinal plants. Tickets on Brown Paper Tickets.
Saturday, August 29th, 11:30 am – 1 pm
Street/Art Brooklyn – Gowanus Art Walk
Explore hidden art along the Gowanus Canal with artist Rich Garr.
Meet at Brooklyn Habit, 405 Smith Street.
Tickets $19 at eventbrite.com.
Sunday, August 30th, 1 pm
Battle of Brooklyn Commemoration
A virtual ceremony with The Green-Wood Cemetery and the Old Stone House.
Via Zoom – Meeting ID: 890 9279 7356, Passcode: 320628.
On-Going:
Old Stone House: Witness to War
A Permanent Exhibit about the Battle of Brooklyn
Saturdays and Sundays, Noon – 3 pm BY APPOINTMENT
Battle Week is sponsored in partnership with the Battle of Brooklyn Memorial Society, The Green-Wood Cemetery, the Old Stone House & Washington Park and The Society of the Cincinnati of Maryland