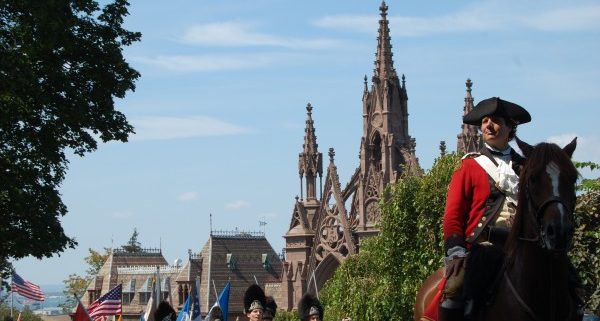 The Battle of Brooklyn, fought in 1776 on land that is now a part of Green-Wood, was the first battle of the American Revolution to be waged after the signing of the Declaration of Independence. On the 240th anniversary of the Battle of Brooklyn, Green-Wood hosts a day of free commemoration ceremonies and 18th-century living. See parades, cannon fire, horses, re-enactments and historic cooking. Living history events and activities will offer kids a real feel for life during the American Revolution. This is a great event for kids and families!
The below events are free, pre-register here.
12:00 PM – LIFE IN REVOLUTIONARY NEW YORK: Meet soldiers, their horses, and famous colonial Americans. Historic re-enactors will demonstrate everything from revolutionary weapons to colonial. Just inside Green-Wood's gothic arches, food historian Sarah Loman will be on hand serving colonial snacks and drinks. At the edge of the "battlefield," Carolina M. Capehart will be cooking up soldiers' fare over an open fire. Chat with Carolina about what she's preparing and the food that Patriot troops received, cooked, and ate on a daily basis during the Revolutionary War.
1:30 PM – BATTLE OF BROOKLYN PARADE: Grab a Revolutionary regiment flag, wave it high, and march to Battle Hill with The Regimental Band of the United States Merchant Marine Academy. Begins at the main gate.
2:00 PM – COMMEMORATIVE CEREMONY: Honor the spirit and heroes of the Battle of Brooklyn at this commemoration on Battle Hill, overlooking New York Harbor.