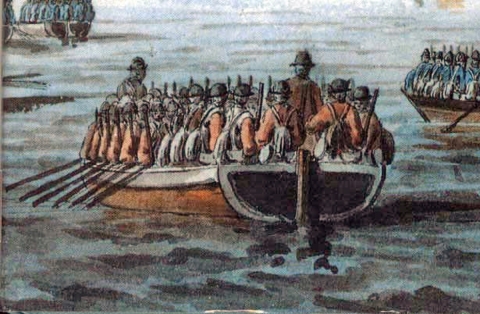 Did you know Gowanus was the beginning of America's Independence?  Paddle with the Dredgers and ask for planners to provide a barrier free shoreline access similar to Dutch Canals!  Learn the History of Gowanus while enjoying a sunset voyage of Gowanus Bay and lower Canal. Please note, this activity is NOT at the 2nd St. Boathouse.
Weather (wind, waves or evidence of storm) may cancel programming without notice (rain date 8/31).
In partnership with the Old Stone House, the Gowanus Dredgers Canoe Club invites loyalist, revolutionaries and common folk to join our fun battle voyage.  This year, we are collaborating with Open House New York, who coordinates a weekend in October celebrating "the power of place," fostering discovery and delight of unusual spots throughout NYC.
Wear one of our RED PFDs to support the King. Arrive early for (limited) BLUE PFDs and join the revolution!
Join us and demand shorelines without barriers and access every 200 feet.
Meet at the Gowanus Dredgers Canoe Club 19th St. Launch, 2 19 St, Brooklyn, (off of 3rd Ave.), wear sunscreen and bring a bottle filled with water.  Use a restroom before arrival and you should be prepared to climb over a rocky shoreline while attempting to enter & exit canoes.