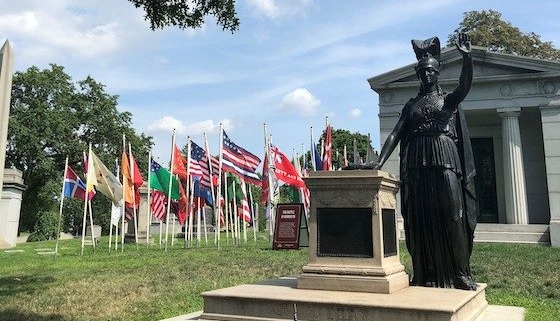 The largest battle of the Revolutionary War was fought throughout what is now known as Brooklyn, including a significant engagement on land that is part of The Green-Wood Cemetery. What did this battle mean to the many different people in New York and Brooklyn at the time? Green-Wood shares the many perspectives of this revolutionary chapter with kids and families, in partnership with The Museum of the American Revolution, the Center for Brooklyn History, and other esteemed institutions.
The Battle of Brooklyn, fought in August 1776, was the first battle of the American Revolution to occur after the signing of the Declaration of Independence. Join us for a family-friendly afternoon to honor those who fought in the battle and learn more about the diverse world of revolutionary New York!
Highlights of this year's event include:
Take a tour through the "First Oval Office Project," a replica of George Washington's marquee tent used between 1778 and 1783. The real one is on view at the Museum of the American Revolution in Philadelphia, PA, but you can walk into an exact reproduction and talk with expert costumed interpreters from the museum at Green-Wood!
See flags from the many militias and regiments that fought in the battle, do a flag scavenger hunt, and make your own flag to represent what freedom means to you.
Enjoy fun activities with the Center for Brooklyn History and other partnering institutions.
Participate in a parade up to Battle Hill to commemorate the battle and the soldiers who fought and died in it.
This program is part of Battle Week.