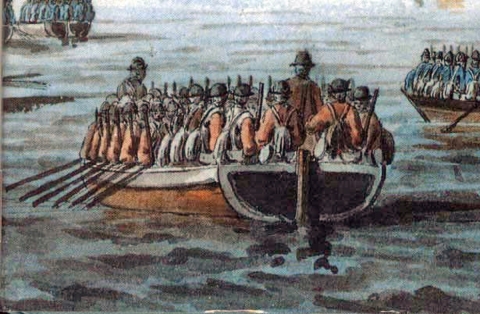 Did you know Gowanus was the beginning of America's Independence?
Join in songs of revolution and freedom with the Dredgers and ask for planners to provide a barrier free shoreline access similar to Dutch Canals!
Learn the History of Gowanus at the Dredgers 2nd St. dock.
In partnership with the OSH, the Gowanus Dredgers invite Loyalists, revolutionaries and common folk to join us for a fun evening to commemorate the event.
The Boathouse Jam, which occurs on Wednesdays outside the Gowanus Dredgers boathouse, will feature rebellion songs and songs of freedom at our shoreline.  Our Boathouse Jam is open to everyone with an acoustic instrument and a propensity for sitting in a circle while playing.  Come on down, lead us in a song and play along.  The Gowanus Dredgers boathouse is a family friendly event venue with a mission of connecting us with our waterways.