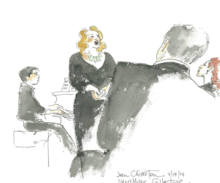 On Sunday, May 21st, 2017 Brooklyn Art Song Society will present its season finale, a concert of songs written after 2010, as part of its New Voices series.  Two works will be world premieres: A new work by Tom Cipullo written to celebrate the wedding of artistic director Michael Brofman and Glen Rovens Three Songs by Thomas Hardy for baritone and bass-clarinet.  Also on the program: Scott Wheelers swashbuckling Ben Gunn Songs on texts from Treasure Island (which BASS premiered in 2015), Michael Djuptroms lushly romantic Three Teasdale Songs and James Kellembachs epic A Primer of Bird on texts by Ted Hughes.  Sopranos Laura Strickling and Elisabeth Marshall and baritone Steven Eddy perform works written specifically for their voice.

Tom Cipullo: New Work (World-Premiere)
Michael Djupstrom: Three Teasdale Songs
James Kallembach: A Primer of Birds
Glen Roven: Three Songs by Thomas Hardy (World-Premiere)
Scott Wheeler: Ben Gunn Songs
Laura Strickling, Elisabeth Marshall, soprano; Steven Eddy, baritone; Pascal Archer, clarinet;
Michael Brofman, Miori Sugiyama, piano
Tickets: $25 General Admission/$15 Students & Seniors
Available in advance at Brownpaper Tickets
Brooklyn Art Song Society's New Voices series features the best song written after 2010, presenting works by established composers and fresh young talent alike. New Voices has commissioned and premiered works by over a dozen composers, including Tom Cipullo, Glen Roven, Andrew Staniland, and Scott Wheeler. In 2015 Brooklyn Art Song Society released the New Voices CD, which debuted in the Billboard Top 10 for Classical Music and was number one on the Amazon Opera and Vocal Charts.