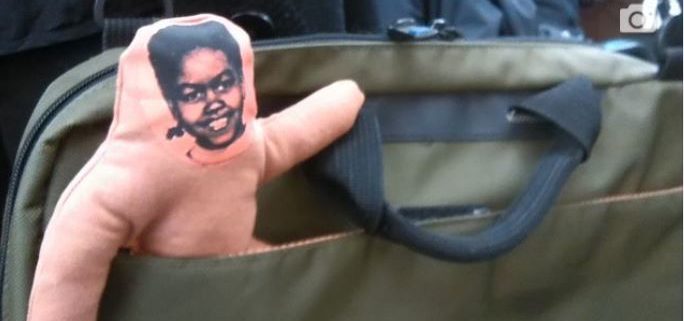 Join Brooklyn-based artist Aisha Cousins for Take Michelle to Work
Inspired by Take Our Daughters to Work Day, this art project asks you to create fabric dolls of a young Michelle Obama and take them to work with you on Take Our Daughters to Work Day (April 26th). This is part of a series designed by artist Aisha Cousins to document important, but overlooked aspects of black life during the Obama era. The first Take Michelle to Work event was commissioned for Black Artstory Month by the Myrtle Avenue Brooklyn Partnership in 2014.
By taking your doll to work and posting about it on social media with #TakeMichelletoWork, you can draw attention to the career Michelle sacrificed in order to help her husband pursue his. You can also remind people of the many other ways black women are asked to choose between "what is best for women" and "what is best for the race." Just as importantly, you can encourage your co-workers to imagine a nation where our daughters are no longer asked to choose because it is understood that helping every woman pursue her dreams is, in fact, what's best for all of us.
Meet the artist, make a doll, and join the project at this workshop! Photos of your doll will also be considered for inclusion in OSH's upcoming exhibition Home Front, opening April 19.
Ages: 16 & up
Cost: FREE
Space is limited as we can only take 10 participants. RSVP now at https://www.brownpapertickets.com/event/3366419  to reserve your spot!
Workshop participants can also view our current exhibition "Icons in Their Own Right: Portraits by Makeba Rainey," featuring portraits of the Obamas alongside other African-American icons.
About the artist:
Aisha Cousins is a queer black woman artist who makes collective art projects that document and respond to important, but overlooked aspects of black American life. "Take Michelle to Work" is part of a series she began in 2008 to tell future generations about the era when the USA elected its first black president.
About the faces:
The doll faces were carefully designed to reference artist Heather Hart's Build a Brother Workshop which asked participants to build black male dolls as a metaphor for "building" up and nurturing real black men. Cousins learned about Build a Brother when she saw the dolls in the homes of two black women friends. The Take Michelle to Work dolls were designed with similar faces to spark conversations about how black women's immense desire to nurture the black men in our lives can, at times, cause us to forget that nurturing our own development is just as important.