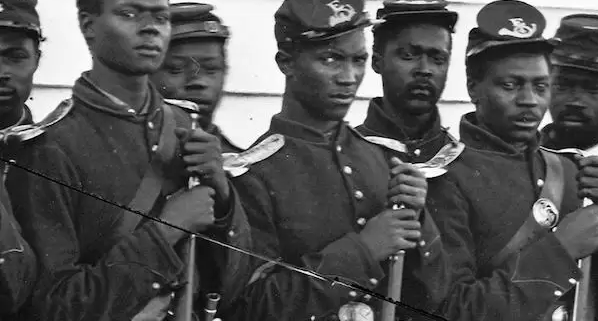 Join our colleagues at Green-Wood Cemetery for this virtual discussion. Register here.
Since the American Revolution, African Americans have proudly served in America's Armed Forces in every war. Though they cleared multiple barriers to serve in the military, their heroic deeds have garnered little recognition—and they have often served without being identified as African Americans.
In this illuminating conversation, Colonel Krewasky A. Salter (Ret.), executive director of the First Division Museum and author of Combat Multipliers: African-American Soldiers in Four Wars, joins Green-Wood Historian Jeff Richman to discuss those who served—both men and women—despite racism, segregation, and discrimination. Colonel Salter previously guest curated the exhibitions Double Victory: The African American Military Experience at the National Museum of African American History and Culture at the Smithsonian African Americans in Defense of our Nation at the Pentagon.
Learn about patriots including Commissary Sergeant John Munroe of the 35th North Carolina, United States Colored Troops, as well as Privates Samuel Mann and Andrew Schofield, both of whom were African Americans who seem to have served in what were required by law to be all-white regiments during the Civil War.